Over the sound of a roaring engine came wailing. Cradled in a man's arms on the bonnet of a speeding Humvee a boy with a mangled leg is crying out for someone to save him. Next to him, another boy is already dead.
Twelve-year-old Mohamed is fading too as the vehicle pulls up in a cloud of dust at an aid station in Mosul's eastern outskirts. Medics race to tighten a tourniquet above his mutilated right thigh and Mohamed faints. They pack gauze around his shattered femur and he revives, calling for his mother.
The medics load him in an ambulance with his frantic father and brother. Left behind is the body of the other boy, 15-year-old Matham Tarek.
A soldier lifts him off a bloody gurney and onto a body bag while his devastated father and brother weep inconsolably in the dirt.
In the Samah neighbourhood of Mosul, death calls at random.
The operation to drive the Islamic State from Mosul is in its fourth week and fighting is now inside the city. With two-and-a-half years for IS to prepare defences, the city is rapidly becoming a meat-grinder as Iraqi Security Forces advance street by street. Desperate civilians caught in the middle face death at every turn and often have no place to flee.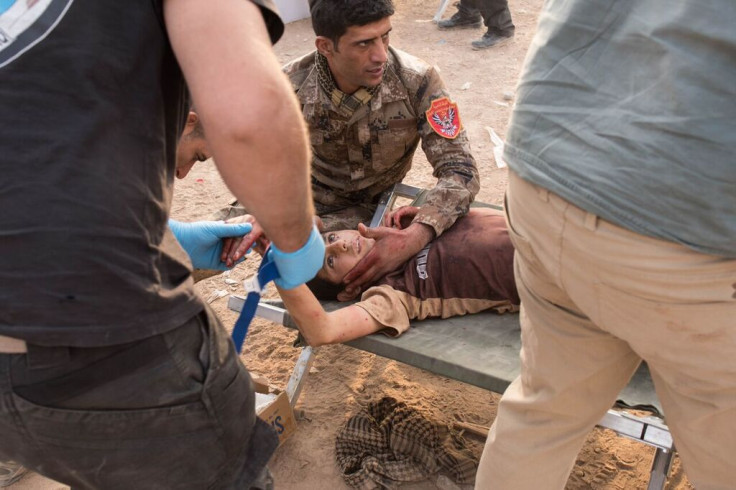 Minutes earlier and the aid station was quiet after a relatively calm morning treating wounded soldiers and civilians. The fighting was several kilometres distant, with occasional nearer explosions – outgoing fire from ISF artillery and rocket positions.
We cannot bury him here, this is not our land.
Then several loud explosions and a cloud of black smoke rising a few hundred metres away. Incoming IS mortars, shrapnel from which cut down the two boys.
The boys had already fled fighting near their homes to arrive here with their families just days before, a bystander said. Iraqi forces recaptured the neighbourhood last week and since then civilians seeking safety have arrived by the hundreds daily.
Most came on foot, hauling their few possessions and waving white flags. Those who had relatives nearby continued walking, while Iraqi soldiers directed others to a nearby house where they awaited transportation to a newly-constructed displacement camp.
Those who passed by the aid station on Sunday are just a fraction of the 42,000 the UN says have been displaced by fighting during the Mosul operation so far.
Ahmed Hamad said he fled here with two sons after his house was destroyed by an IS suicide vehicle which detonated during fighting nearby. "Our house fell on us," said the 47-year-old carpenter. All three were wounded by the blast. Like his 16-year-old, the father's head was bandaged, while his eight-year-old's face was flecked with blast injuries. "We'd stayed because we didn't know where else to go," Hamad said.
At least 566 Iraqi civilians have been killed in Nineveh Province in October.
Others wanting to flee are prevented by IS fighters. "If they see people fleeing they will kill them," said a 60-year-old man who identified himself as Abu Arkan. "I was asking people if the route was safe."
The UN believes that IS is using tens of thousands of civilians inside Mosul as human shields. And elsewhere advancing Iraqi forces have discovered recent mass graves believed to contain the bodies of hundreds of civilians, killed by IS fighters for fractions as minor as possessing a SIM card, which might be used to inform against the extremist group.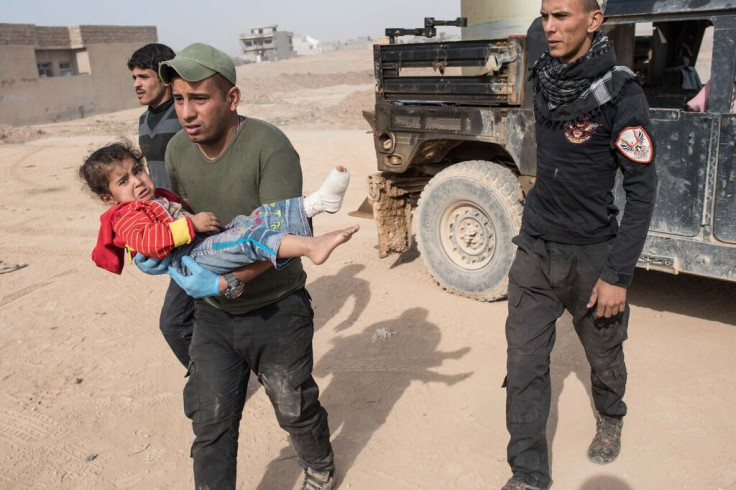 Others civilians say the biggest danger has been from coalition jets and Iraqi artillery fire. "The main threat to us was air strikes and shelling," said a man who gave his name as Abu Zain, speaking near the civilian collection point near the aid station. Originally from a town north of Mosul, he said they had fled to the city in August 2014, when the area became a front line between IS and Kurdish forces and his village came under regular bombardment.
We just have no idea what's going on inside Mosul.
Britain-based watchdog organisation Airwars says it has reviewed unverified reports of up to 127 civilian deaths caused by coalition air strikes alone since October 17. In that time, the international coalition says it has carried out over 117 strikes on Mosul.
Gauging total numbers of civilian casualties so far during the operation is fraught. "We just have no idea what's going on inside Mosul," says one UN staff member. But the medics at the aid station say they have treated hundreds in the past few days.
The United Nations Assistance Mission for Iraq civilian casualties figures for October list at least 566 killed in Nineveh Province, of which Mosul is capital. However these figures were compiled before fighting extended into the city and in any case were issued with the caveat that they represented "an absolute minimum."
Back at the aid station, the medics rinse blood from the gurneys and their hands. Matham Tarek's brother strokes his head through the body bag. "We need to take him home to wash him and so his mother can see him," his father says between sobs. "But we cannot bury him here, this is not our land."