Weeks of airstrikes, street-by-street fighting and shelling have left the al-Salam hospital in Mosul devastated with US-led coalition planes dropping dozens of bombs on the former medical facility in recent weeks.
The Pentagon has said in a statement that air forces supporting Iraqi troops on the ground have dropped a total of 25 bombs on the al-Salam hospital in the past month. The start of airstrikes coincided with a renewed ground assault by Iraqi forces including tribal and militia fighters in and around Mosul.
The US military said, however there was no indication the hospital had been used as a civilian medical facility for some time. US Army Colonel John Dorrian said it was "clear" the hospital was being used by IS as a headquarters.
The hospital has been the backdrop to some of the most bitter fighting in the three month operation to retake Mosul. The complex of buildings which make up the facility have changed hands between the Islamic State (Isis) and the Iraqi forces since the start of December.
The Associated Press reported Iraqi forces had found themselves surrounded by Isis fighters in the hospital complex on December 6 after advancing into the city too quickly. Isis launched wave after wave of counterattacks killing dozens and eventually forcing a retreat.
Iraqi forces on the ground have said the hospital was only eventually retaken because of US and coalition air support.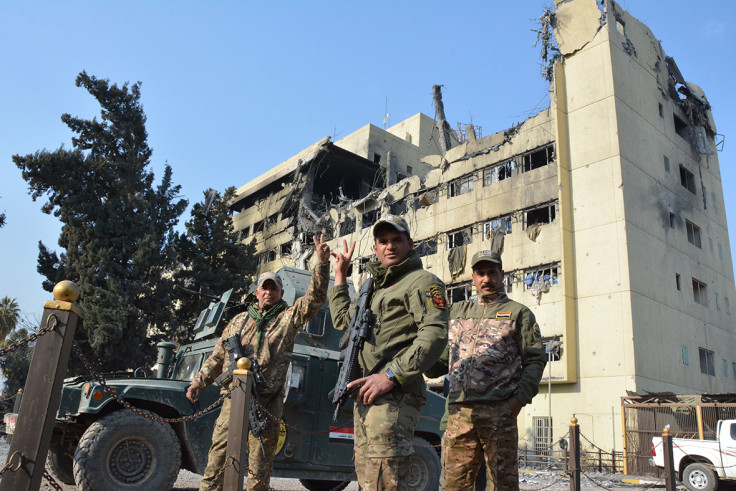 "Honestly, the battle was 75% fought from the air," said Sergeant Major Hassan Ali Jalil was quoted as saying.
Iraqi officer Qassim Jassim Nazal also said government forces were unable to fight back against the IS fighters and the waves of car bomb attacks without heavy air support. "They were not normal car bombs. Each one was like an atomic blast," he said.
Isis, which has frequently used civilian homes and buildings to shield itself from attacks, had turned the basement of the hospital into a bolthole. Inside, dozens of mattresses had filled rooms, ammunition and body armor was scattered throughout and religious texts were piled on shelves.