A 62-year-old Italian woman and her 36-year-old son have admitted giving an elderly relative rat poison at a nursing home in Pinerolo near Turin.
Elisabetta Martini and Marco Coggiola laced at least three different beverages - water, coffee and a milk-shake - with rat poison and encouraged the 97-year-old relative to drink them. It is believed the victim is Martini's grandmother and Coggiola's great-grandmother.
Doctors became suspicious when the woman fell ill but at first couldn't find anything in her blood to explain why. Then they found traces of the poison. Police installed cameras and filmed Martini adding poison to a dessert mousse. They arrested the couple before they could give another dose to the victim. Quantities of the drug were also found at the home the accused mother and son shared. Martini and Coggiola have both been charged with attempted murder.
Killing a relative in order to obtain an inheritance has often been used as a staple of fiction but sadly also happens in reality.
In May 2014 Brendan Lee Johnson, 19, and Cassandra Ann Rieb, 18, were said to have killed Johnson's grandparents to obtain $20,000 and a cheap house. A court heard how they went to the home of Charles and Shirley Severance, both 70. in Colorado, stabbed and strangled the couple, then burnt their remains and attempted to dismember their bodies. Both are charged with murder.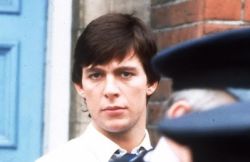 Last year British man Stephen Seddon was convicted of murdering his mother and father Robert and Patricia to claim an inheritance. Seddon had previously driven the elderly couple's car into a canal then claimed to have saved their lives - despite witnesses reporting they saw him jump up and down on the car roof as it sank. Four months later he killed both parents in cold blood with a sawn-off shotgun. He has told he will never be paroled.
In 1986 Jeremy Bamber was found guilty of killing five members of his adopted family, including two six-year-old nephews, with a shotgun in order to receive a large inheritance. Bamber was sentenced to a whole life prison term but has always denied committing the crime.