Mothercare Mulls International Expansion and Major Restructuring Acitvity in UK
Mothercare, as a part of its British property restructuring activity, is planning to close 111 loss making stores in town by 2013. Out of total 111 stores 76 closures will take place as leases expire and disposal of 35 loss-making stores, which will result in cash cost of £16.6 million. The group is scheduled to release its fourth quarter trading statement on Thursday.
The mother and baby products retailer is facing fierce competition in UK from supermarkets and internet players, as well as uncertainty in consumer environment. However, the group opened its 1,000th store outside the Britain and also launched its operations in four new countries - Chile, Colombia, Iraq and Morocco.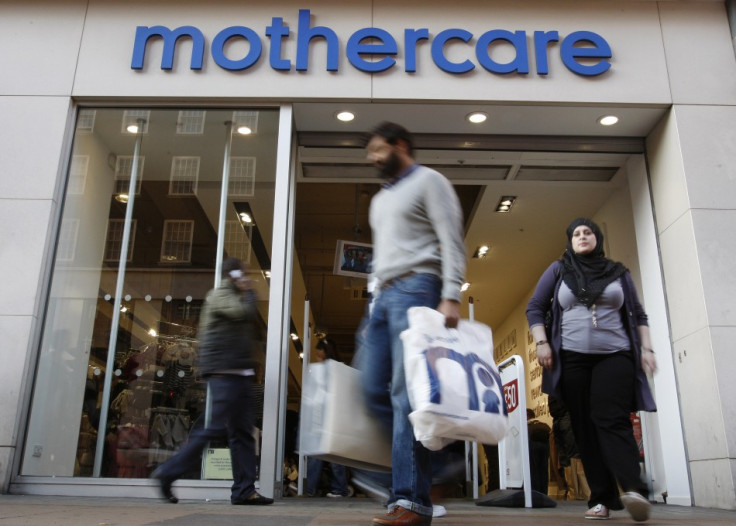 "Worldwide network sales increased by 3.0 percent, as a result of continuing strong growth in our profitable and cash-generative International business. The management actions we have already taken, which include a new web platform to launch next financial year, are expected to improve Direct and overall performance in 2012. Both the search for our new CEO and the structural and operational review of our UK business are progressing well. The UK review, which is on plan to complete in the current quarter, has already highlighted key actions to improve the business for the future," said Executive Chairman Alan Parker.
During the third quarter, the group reported a fall of 1.2 percent in total sales with UK sales down 6.9 percent mainly due to planned store closures. International retail sales of the group increased by 15 percent and at the constant exchange rate they were up 18.5 percent. Mothercare's promotional activity helped in increasing like-for-like UK sales by 5 percent in December and managing overall UK inventory levels, which were 17 percent lower than the previous year.
According to the retailer, international business is expected to grow by 15 to 20 percent per annum. It is expected to open 150 stores internationally each year as it is confident of the outlook for the international business. Although in the medium-term, the group is positive about the profitability in Britain after its property restructuring, operational and management changes it is implementing.
Below is a summary of sector comparisons in terms of price earnings, earnings per share, dividend per share, dividend yields, return on equity and price-to-book ratio. The table explains how the company is performing against its peers/competitors in the sector. The table below represents top ten companies based on market capitalisation.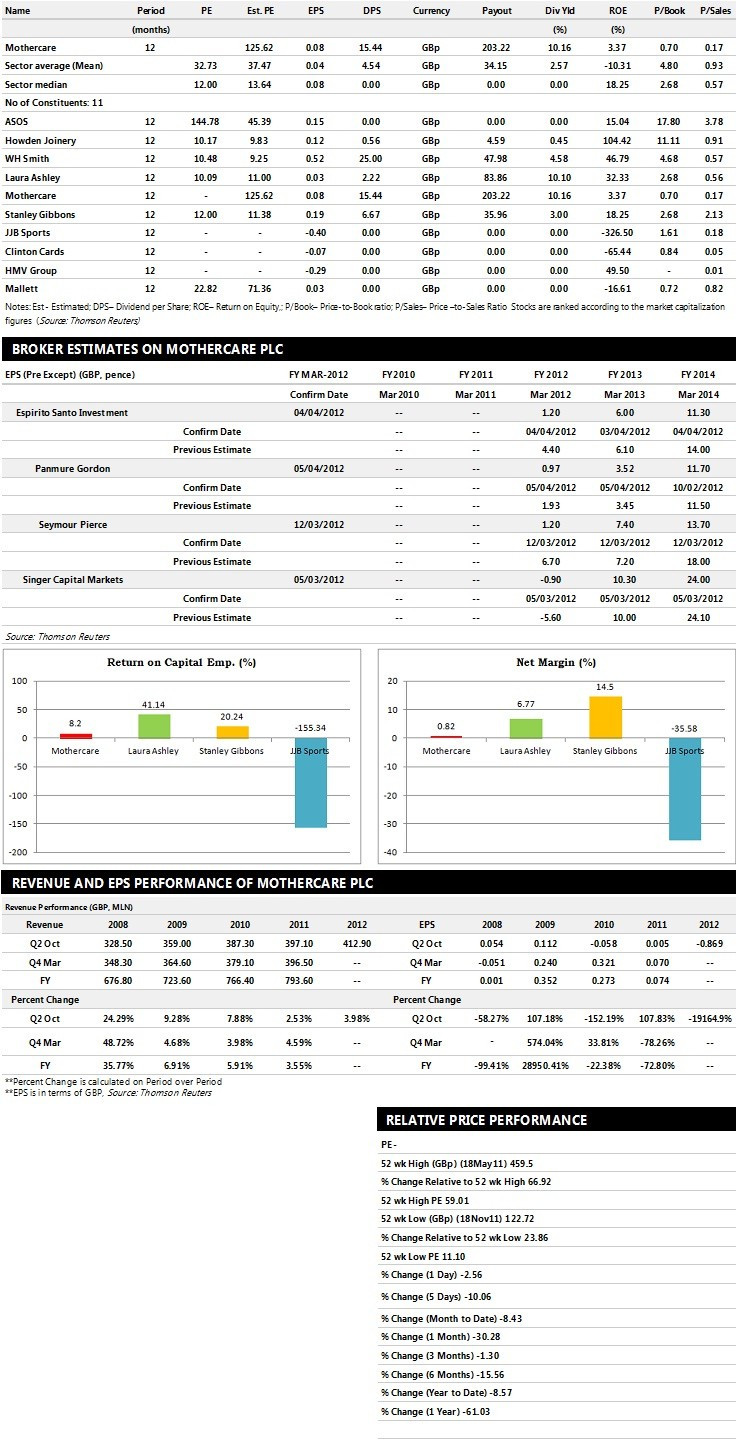 Brokers' Views:
- Panmure Gordon recommends 'Sell' rating on stock
- Espirito Santo Investment Bank assigns 'Underperform' rating
- Seymour Pierce gives 'Underperform' rating
- Singer Capital Markets assigns 'Buy' rating with a target price of 270 pence per share
- Numis Securities gives 'Hold' rating with a target price of 200 pence per share
Earnings Outlook:

- Panmure Gordon estimates the company to report revenues of £792 million and £815 million for the FY 2012 and FY 2013 respectively with pre-tax profits (pre-except) of £1.10 million and £3.98 million. Earnings per share are projected at 0.97 pence for FY 2012 and 3.52 pence for FY 2013.
- Espirito Santo Investment Bank projects the company to record revenues of £813.00 million for the FY 2012 and £818.00 million for the FY 2013 with pre-tax profits (pre-except) of £1.00 million and £7.00 million respectively. Profit per share is estimated at 1.20 pence and 6.00 pence for the same periods.
- Seymour Pierce expects Mothercare to earn revenues of £791.40 million for the FY 2012 and £802.80 million for the FY 2013 with pre-tax profits of £1.40 million and £8.80 million respectively. EPS is projected at 1.20 pence for FY 2012 and 7.40 pence for FY 2013.
© Copyright IBTimes 2023. All rights reserved.