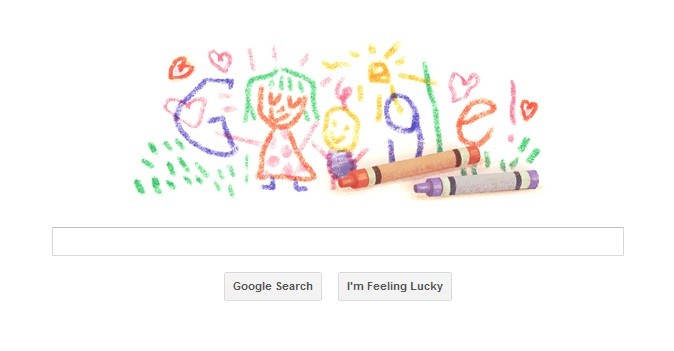 Google is celebrating mother's day on Sunday, 18 March, by paying tribute to motherhood with a new doodle.
The new doodle looks like a homemade card redrawn by a child with crayons making it look more colourful. The first "O" has been changed into a mother with a green hair looking at her child drawn as the second "O". Heart-shaped colours fill the air showering love and a bright sun shines overhead.
Mothering Sunday, which is celebrated in the UK, is also referred to as Mother's Day. Although Mother's Day is celebrated around the world, the celebrations in the UK have religious traditions. Mothering Sunday is marked on the fourth Sunday in Lent. Hence, it appears on different dates and even different months in the UK.
Initially, the Roman religion celebrated the Hilaria festival to honour mother goddess Cybele which took place during mid-March. As the Roman Empire and Europe converted to Christianity, this celebration became part of their religious calendar and is observed on the fourth Sunday in Lent.
Traditionally, Mothering Sunday was a day when children as young as 10 years who were working as domestic servants were given a day off to visit their mother Church with their family. It became inevitable for the daughters to return to their family once a year and visit the church.
The day is marked with traditional celebrations and other events. Children pay respect to their mothers giving gifts and flowers.
Refreshment Day
Mothering Sunday is also referred to as Refreshment Day, Mid-Lent Sunday or Simnel Sunday. It was the only day in Lent when the fasting rules were relaxed. The day is called as Simnel Sunday because, people follow the tradition of baking cake on this day.The traditional cake related to the day is Simnel cake, a fruit cake with two layers of almond paste. The cake is topped with eleven marzipan balls to represent the eleven disciples of Christ, excluding Judas.