Manchester United manager Jose Mourinho claims Paul Pogba's latest injury setback is down to lack of rest and the Portuguese tactician could be without six players for the trip to Riverside Stadium to face Middlesbrough in the Premier League clash on 19 March.
The France international started in the Red Devils' 1-0 victory over FC Rostov in the second leg of the Europa League round of 16 tie at Old Trafford. After the start of the second half, the former Juventus midfielder picked up a hamstring injury and was replaced by Marouane Fellaini.
United have played 18 matches across all competitions since the start of this calendar year and Pogba has featured in 16 of them. Mourinho has defended his injury record and claims the world's most expensive player has paid the price for his club's busy schedule.
"My teams' injury records are very, very good. It's very difficult for my players to get injuries and obviously Pogba's injury was due to an accumulation of fatigue," Mourinho said, as quoted by United's official website.
"He felt something in the first half and, in the second half, he immediately felt like he couldn't carry on. Even a physical monster like him couldn't carry on. But, of course, he was one of the players who never had a rest.
"He played every game. Even at Blackburn [in the Emirates FA Cup], he was on the bench and he played half-an-hour. I think the Monday night game with 10 men also paid a price. So Paul is paying the price."
Zlatan Ibrahimovic and Ander Herrera will miss United's next two domestic games due to suspension, meaning the duo will not be available for a clash against Boro and West Bromwich Albion.
In addition to this, Wayne Rooney and Anthony Martial picked up injuries prior to the Red Devils' 1-0 defeat to Chelsea in the FA Cup, according to United's official website. The attacking duo missed the midweek Europa League clash and are doubtful to face Middlesbrough, along with Bastian Schweinsteiger.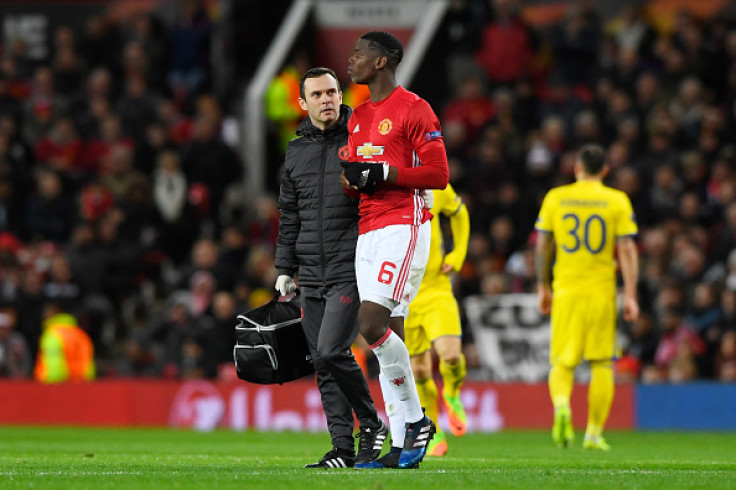 Despite this, Mourinho has admitted that his side will not "sacrifice anything" when they take on Middlesbrough, who recently parted ways with their manager, Aitor Karanka. The Red Devils manager expressed his unhappiness after the league clash against Boro was scheduled at 12pm GMT.
"This is Manchester United, I cannot sacrifice anything. We try to go for every game we do, we try to reach our maximum potential," the United manager stressed.
"[There are] a lot of problems. If you play at 12 o'clock, you need to eat before nine and, if you need to eat before nine, you need to wake up before that. If you play at five o'clock in the afternoon, of course, you can have more sleep, better sleep with more meals before the game and more nutrition. It's difficult to understand and difficult to accept but it has to be [the case]."