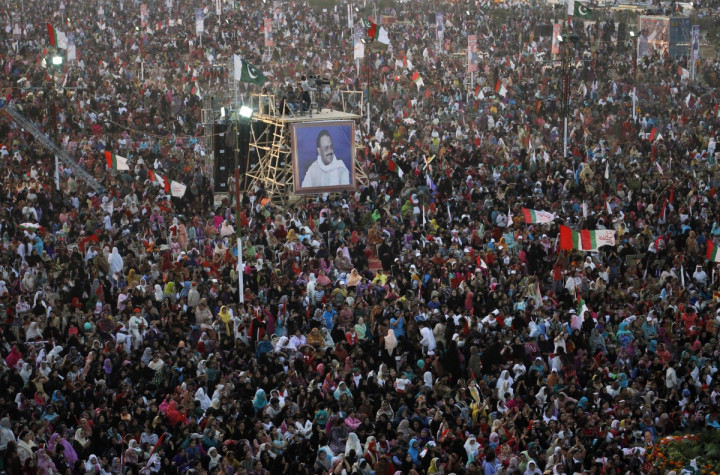 Panic spread through the Pakistani city of Karachi after news that the Muttahida Qaumi Movement's (MQM) leader Altaf Hussain had been arrested in London.
The city was plunged into chaos after news of Hussain's arrest filtered through. Rescue officials told AFP there had been widespread disorder as vehicles were torched by protesters, while the city's streets were congested as workers headed home early and citizens stocked up on groceries in anticipation of a protracted political crisis.
MQM's political leader inside the country, Dr Farooq Sattar, urged restraint.
"We should stay calm, we should not become impatient in any condition. The workers must be aware with the developments, keep in touch with the party office, stay united and also look around you," said Dr Sattar.
"We should act on the teachings of Altaf Hussain. We should pray for his health, we should say that he should be given medical treatment and his medical tests should be conducted," he added.
Karachi is Pakistan's largest city and the country's economic hub but it is gripped by sectarian divisions which can escalate into violent conflict with little warning. Its stock exchange plunged 3% on the news of Hussain's arrest.
A security professional in the city told the BBC that Karachi was essentially in lockdown after the news registered among its inhabitants.
"When it comes to Karachi, if anything happens to Altaf Hussain, you can count on the city just shutting down and a lot of violence," he told the BBC.
Hussain, the leader of MQM, was detained at his home in northwest London on suspicion of money laundering.
"Officers have this morning arrested a 60-year-old man on suspicion of money laundering," the Metropolitan police said in a statement.
Hussain settled in London in 1992, having fled Pakistan amid a military crackdown in his home city of Karachi. He gained British citizenship in 2002.
The MQM represents ethnic Mohajirs who make up a hefty chunk of the Karachi population. The party holds a majority of parliamentary seats in Karachi and wields influence on the city's streets through the street gangs it controls.
From his base in London, Hussain has been a towering figure within the party, addressing massive street rallies attended by tens of thousands in Karachi through a loudspeaker connected to a telephone.
The arrest could spark a power struggle within the MQM. The party leadership have since met in a bid to plan a response to Hussain's arrest.
Hussain, 60, who founded the MQM in 1984, is a powerful but divisive figure within Pakistan. While popular among Urdu-speaking Muhajirs, opponents hold him responsible for much of the violence that plagues Karachi and he has been accused of 30 murders. He denies all criminal charges against him.
Britain has largely tolerated Hussain leading the MQM party from London since 1992 and even taken advantage of the opportunity to improve British interests in Karachi. However, relations changed after a senior MQM member, Imran Faroqo, was murdered in 2010.
Shortly afterwards, the police investigation began to hone in on Hussain and his associates in London, which led police to examine his financial affairs. Police raided Hussain's office in December 2012 and his house in June 2013, arresting his nephew Iftikhar Hussain, who worked for his uncle.