We've seen Sherlock Holmes portrayed many times before on both the big and the small screen, but now Sir Ian McKellen's latest film, Mr. Holmes, promises to offer up the real man behind the fictional façade we've seen before.
Based on the 2005 novel, A Slight Trick of the Mind written by Mitch Cullin, the drama centres on a much older, retired Holmes who spends his time reminiscing about his working life to his housekeeper's eager son.
Looking back, Holmes fondly scoffs at how he was made into a celebrity crime solver, often misconstrued in stories penned by his old partner John Watson, and laughs at how different the public's perception of him is from the real thing. But troubled by his last unsolved case, Holmes revisits fragmented memories of a mystery involving a young woman whose husband sought his help; the man's wife appeared unstable and "changed".
At the UK premiere in London, Love Actually star Laura Linney revealed to IBTimes UK that there were so many things that she loved about the project from the get-go, that when contemplating whether to take the role, it actually ended up being "a competition of reasons to join this group of people."
Having worked with Bill Condon before on films such as Kinsey and The Fifth Estate, and television series The Big C, it's unsurprising that she was cast as housekeeper Mrs. Munro. But according to the Breaking Dawn director, Linney was in his mind way before she wanted to be involved. He revealed that he pictured her in the role as early as when he was reading the script.
"She's just my female muse," he told us. "Any opportunity I get to work with her is absolutely thrilling."
But it wasn't just Condon that the 51-year-old was keen to work with however. Linney gushed about her co-star Ian McKellen saying "I've admired [him] for a very long time, he's one of the greatest actors around. We've been acquaintances but I've never had the chance to spend a lot of time with him."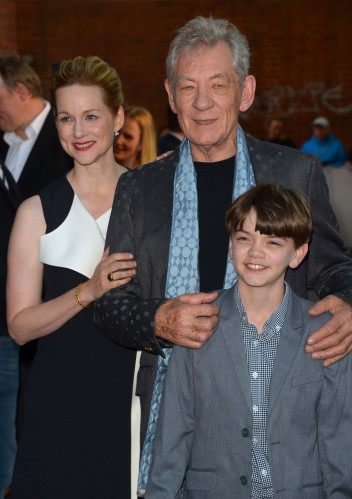 Compliments that McKellen was happy to return: "Laura [was] a dream come true. She's one of the great screen actresses. She came over here and so convincingly played an English part. We had a very good time together."
Her desires to work on the movie didn't just stem from her fondness of her fellow filmmakers however. Linney is a self-confessed Sherlock Holmes-obsessive and says that played a big part in her desire to be in the film.
"He's a character that I've been attracted to and I read [the books] when I was very young. My father gave them to me," she recollected. "I have memories of staying up late and reading those stories, and watching the movies with Basil Rathbone and all the films that have come after that."
Some might have thought that newcomer Milo Parker, who plays Mrs. Munro's son Roger and Holmes's protégé in the film, might have been a little daunted by the prospect of working with such critically-acclaimed actors, but the young star said his "whole experience was fantastic."
Condon evidently likes to keep actors that he enjoys around him as he's elected to work with McKellen again on his upcoming live-action version of Beauty And The Beast. McKellen will be playing Cogsworth in the adaptation of the well-known tale alongside stars such as Emma Watson, Luke Evans and Ewan McGregor.
We asked Condon to tell us what we could expect from his retelling, but careful not to reveal anything too exciting two years before it will hit cinemas, he simply replied: "It's big, you know! We're in our first month [of filming] and we've shot some numbers and they're kind of enormous and the sets are great! It's just been exciting to everybody. Getting to play with that incredible score and that beautiful story."
Beauty And The Beast will be released sometime in 2017, and Mr. Holmes will be in UK cinemas from 19 June.