The first teaser trailer has been revealed for The Hunger Games: Mockingjay – Part 2 and it certainly looks dramatic as it sees Katniss Everdeen (Jennifer Lawrence) gearing up to take down the villainous President Snow, vowing he "has to pay for what he has done".
Adapted from Suzanne Collins's novels, Mockingjay – Part 2 is the last film that will be brought to the big screen from the hugely successful franchise and as ever the biggest fight for justice has been left until the end.
With Mockingjay – Part 1 mostly consisting of Katniss and her group of fellow rebels mentally preparing for the fight against Snow, Part 2 looks set to deliver on the action side, as they finally battle their way to the Capitol to assassinate the ruthless dictator.
The teaser starts with a happy moment with characters Finnick Odair (Sam Claflin) and girlfriend Annie Cresta (Stef Dawson) getting married but, with a backdrop of ominous music and Katniss's words of warning that "nothing good is safe while Snow's alive", you can't help but feel this celebration will not last for long.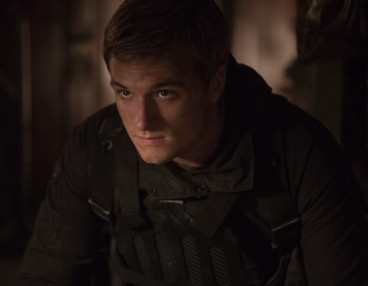 Katniss's narrative on the trailer continues and despite her professing that "I can't make another speech about it", Part 2 looks to be filled with rousing pep-talks as the snippet sees her spouts more powerful lines such as: "We all have one enemy! He corrupts everyone, and everything! He turns the best of us against each other," and "tonight, turn your weapons to the Capitol!"
These moments of heroism are reminiscent of the line that caught everyone's attention in the Part 1 trailer: "This is a message for President Snow... if we burn, you burn with us!" Such statements build anticipation for the films, drawing the viewer in to make them feel as though they are part of the revolution themselves.
Fans that have read the trilogy prior to the movies will undoubtedly know whether Katniss and her comrades prevail – and who she will finally end up with – but the rest of us will have to wait until the film is released on 19 November to find out.
The final instalment will feature a whole lot of famous names with Donald Sutherland, Woody Harrelson, Elizabeth Banks, Philip Seymour Hoffman and Julianne Moore all reprising their roles from the series.
Game Of Thrones star Gwendoline Christie will appear as Commander Lyme, a past Hunger Games victor from District 2 who will do anything to join forces with Katniss to take down the oppressive Snow.