Former model Sabina Gadecki has had a number of smaller roles in some of television's biggest shows including Law & Order, White Collar, The League and most recently, new phenomenon Inside Amy Schumer.
But now she's well and truly stepping out into the glitz-and-glamour of Hollywood, as she stars in the Entourage movie.
Featuring the same cast, avid fans of the show can look forward to seeing movie star Vincent Chase (Adrien Grenier) and best friends, Eric (Kevin Connolly), Drama (Kevin Dillon) and Turtle (Jerry Ferrara), back together again as they attempt to make a new movie that will mark Vincent's directorial debut – under the watchful eye of agent-turned-studio head Ari Gold (Jeremy Piven).
Within the film, Gadecki plays returning character Eric's new love interest, Melanie, who has to deal with the fact that her new man is expecting a baby with his ex-girlfriend, carrying on from the events in the HBO series.
Not only has her part propelled her into the limelight and will no doubt see her raking in a number of movie offers of the back of it, Gadecki has also reportedly found love through starring in Entourage. Her on-screen co-star Kevin Connolly recently confirmed to E! News that he was dating the 31-year-old actress after having met on set.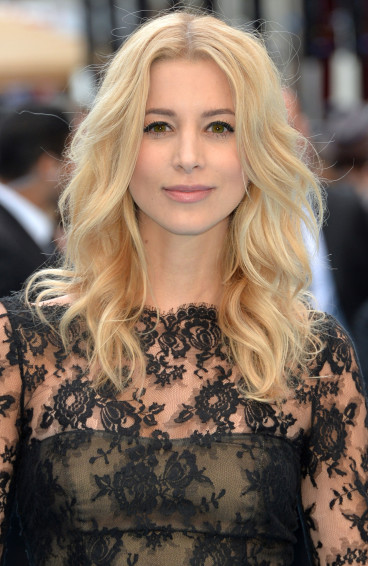 When an ensemble cast like this have worked together for nearly ten years, it must be a little daunting to be the new face on set, an assumption that Gadecki certainly agrees with.
"It was definitely intimidating being the new girl on set! Especially with a show that has such a strong fan base," she told IBTimes UK at the red carpet of the European premiere of the upcoming film.
"The women on the show are so loved so it's scary! You want people to like you and accept you and so far, everyone's been really wonderful and I feel grateful for that."
Her success has evidently been a long-time-coming, indicated by her telling us: "I've worked on so many shows, and this was such an amazing opportunity, and as soon as I got my first call-back, your heart gets a little bit more invested and then I had a second and a third call-back... I actually auditioned five times before booking this. A lot of people so often don't realise what goes into getting a role like this, so I feel very lucky to be in this place right now."
Whilst she's happy to finally be within the fame bubble, a now-knowing Gadecki agrees that some of the more clichéd scenarios depicted in the world of Entourage are "definitely true to Hollywood".
"There's some truth to some of those stereotypes, for sure," said Gadecki.
But there are some perks to being a part of Hollywood however, like being able to pitch-up unexpectedly in one of 2015's summer blockbusters. True to the celebrity-obsessed series, there are a huge number of cameos from A-listers in the movie, including the likes of Thierry Henry, Pharrell and Jessica Alba - but Gadecki admitted that it was Liam Neeson who was her ultimate favourite.
"I'm so bummed because he was filming the same day I was filming, but in different places, and I regret not having met him because I think he's fantastic."
When we asked who would be her ideal guest star if there was a sequel to this movie, Gadecki joked: "I think in Entourage 2, I should be in it with Beyoncé. We should have some sort of collaboration. It'll make sense in the second one! Beyoncé and I. Maybe Drake and I... I could rap with him!"
Well, with the movie's tagline being: "Dream large. Live larger", we imagine anything is possible.