Microsoft has sold its 50 percent stake in MSNBC to its partner in the project Comcast, ending a 16-year relationship between the two companies.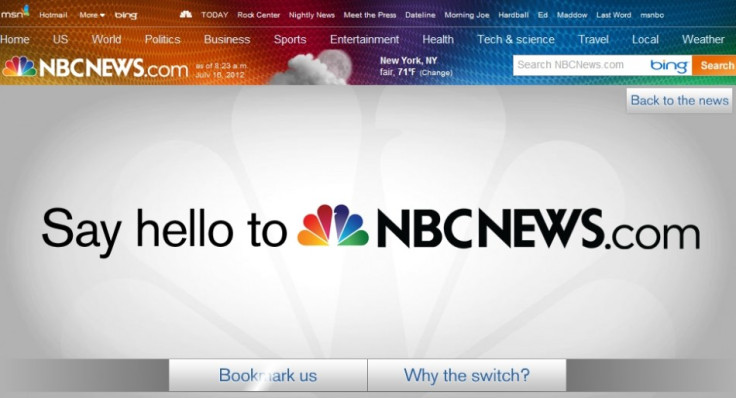 Comcast, which is the parent company of NBC, bought out Microsoft for around $300m (£193m) to take full control of the news website, according to a report in the New York Times.
Reports from unnamed sources claim a portion of the total price comes from the joint venture's past profits. MSNBC.com has already been renamed NBCNews and users trying to log on are automatically redirected to the site.
A link on the site marked "Why the Switch?" takes readers to an official statement.
"For 16 years, it has been our privilege at msnbc.com to bring you one of America's favourite sources for insightful and compelling news and information. We've been your source for breaking news, one-of-a-kind stories, segments from NBC News and MSNBC shows, and live video coverage of the most important news events of our time," Jennifer Sizemore, MSNBC.com's editor-in-chief writes.
"Our team has never stopped working to satisfy your curiosity, whenever and wherever you are. Today we're taking on a new name - NBCNews.com."
However, the MSNBC.com name will not be lost and Comcast says it plans to relaunch it in 2013 as a digital home for its MSNBC TV on-air brand, creating "in-depth content and a community for the passionate audiences of MSNBC programs."
"It's undeniable how big a part of all of our businesses the digital properties are going to be," Steve Capus, president of NBC News told the New York Times. "We think we have a much better opportunity to shape them, and frankly grow the news division over all, if we have direct control over all of it."
News of a possible buyout was first reported in May 2012.
Microsoft did not respond to a request for comment and has so far issued no official statement on the deal.
UPDATE: Microsoft has now responded to our inquiry, although the spokeswoman told IB Times UK, "I'm afraid we have no comment to offer at this time."