Mubarak Trial: Will Justice Be Done?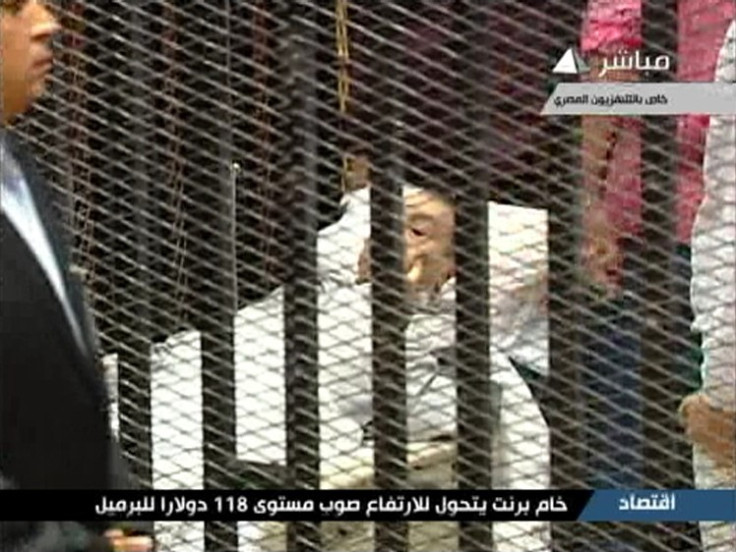 Five months after a popular uprising ousted him from nearly three decades of absolute power, Egypt's former president Hosni Mubarak, was flown into Cairo on Wednesday to face trial for conspiring to kill protesters and corruption, charges which he denies.
Crowds gathered outside of the courtroom with hundreds of his supporters and opponents clashing.
If found guilty Mubarak could face execution, an outcome that many analysts have however insisted sounds unlikely and his lawyers have
The trial has divided Egyptians public opinion with both supporters and detractors of the former president have expressed intense feelings regarding their former leader facing justice.
About 50 pro-Mubarak supporters, holding his giant photograph afloat, declared "we will burn the prison, if they convict Mubarak", while his opponents, out in larger numbers, shouted back "death for dictator," the press reported.
They should hang him," said Jalal Faisal Ali, whose 18-year-old brother Nasser was among those who died.
"He was responsible for all of the deaths, because it was to save him and his sons."
Security around the court was stepped up and the police backed by armoured cars kept the clashing public far away from the courtroom.
Mubarak was flown in from Red Sea resort town of Sharam el-Sheikh by a helicopter and brought to the courtroom on a stretcher with an intravenous drip, state television reported.
Footages of him lying on a hospital bed inside an iron cage in the Cairo courtroom appeared surreal. Other defendants, including Alaa and Gamal and his infamous interior minister Habib-al-Adil,were also in a cage.
While justice must be done, footages and images from the courtroom are quite disturbing and while officials insisted special security measures were necessary to provide for the safety of the defendants, but one hope that the theatrical display will not interfere with the judicial process.
Photos of an ailing Mubarak, locked in a cage are certain to steal the limelight and the process, which is being broadcasted by an Egyptian TV channel will be followed by millions as after almost 30 years of Mubarak's rules and punishments, Egyptians will want to know every details of the prosecution.
Inside the cage, Mubarak struggled to keep his head up to see the proceedings and had a a sheet drawn up to his chest.
His two sons, Gamal and Alaa stood next to his bed and leaned over him, from time to time to talk with him.
Many thought Mubarak would try to escape trial due to health reasons as various reports emerged in the last few weeks.Last week, his lawyer declared him in the coma and the former leader was then said to be awake but refusing to eat.
For many Egyptians, the trial is a chance of retribution for decades of oppressive rule in which opponents were tortured, corruption was rife, poverty spread political life was stifled and political opposition severely reprimanded. The trial is also set to represent a new beginning for Egypt, whose judiciary institutions had often been accused of being under the former's president's control.
The Mubarak trial is important for Egyptian but also resonates beyond the country's borders as the former president is the first Arab ruler in modern times to be put in the dock, rendering the final outcome all the more important.
Most generals within the military council replacing Mubarak were close ally of the former president and until footage of Mubarak in the court was shown, many thought the trial would never take place.
However after weeks of mass protests over the council's handling of the revolution aftermath and with Egyptians still rooting for more democracy and new reforms, and intense pressure from activists the military it seems has decided to turn against its former leader.
Trying to quash the protests, after coming into power the military tried to turn the public against activists by accusing them of receiving foreign funds and training, but after siding with Mubarak for years, their propaganda failed to convince the masses and the ruling council now finds itself under increasing pressure to respond to the protesters demands.
Whether or not justice will be made is crucial for the future of Egypt as after Mubarak's sentencing, the real issue will be to see if the trial has paved the way for a new and more independent judiciary, free from the control of corrupt officials. The trial is set to prove the implication of several high profile military figures still part of the new interim council, which should normally see them being brought to justice as well. After setting the example with bringing a former Arab leader to justice, Egypt now needs to prove that defecting a dictator's regime and siding with a newly formed opposition made up of the same people that obeyed this dictator's orders and supported his policies cannot be met by impunity.
© Copyright IBTimes 2023. All rights reserved.