Innocence of Muslims Protests: Activists Target YouTube and Google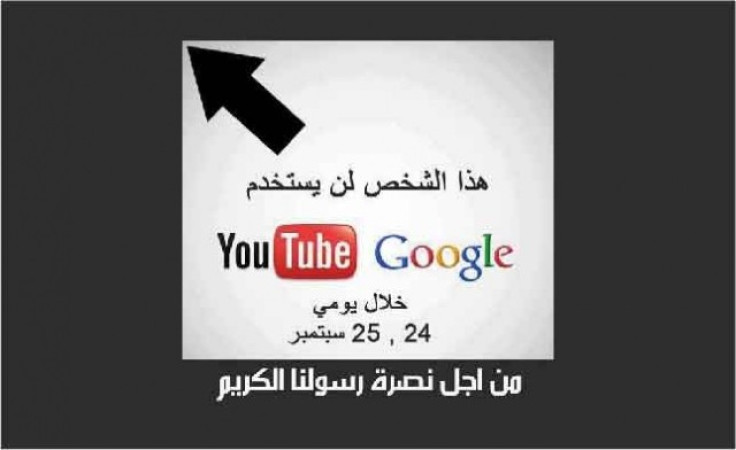 Protests against the Innocence of Muslims film have moved into cyberspace. Protesters are targeting Google and YouTube which have refused to remove the controversial movie trailer.
The movie has been blocked in some countries after requests from governments, but the trailer is still available.
Activists have launched a campaign on social media platforms like Facebook for a mass boycott of the sites, which they accuse of being responsible for spreading the anti-Islam movie.
"This person is boycotting YouTube and Google throughout Sept 24 and 25. In support of our beloved Prophet," reads a profile in Arabic on Facebook.
Responding to this, a Google spokesperson told al-Arabiya: "We believe in everyone's right to express themselves freely, but at the same time, we know that users are aware of the role Google plays giving them universal access to information."
The spokesperson said: "The video is widely available on the web. Where we have launched YouTube locally and we are notified that a video is illegal in that country such as in Saudi Arabia and Jordan, we have restricted access to the video. In the case of Egypt and Libya, we have only temporarily restricted the original trailer and exact duplicates."
Countries including India, Malaysia, Indonesia and Saudi Arabia have requested YouTube to block the contents while many others have decided to black out the entire YouTube.
Muslim activists are also urging their supporters to stop using Google's search engine, browser and other products.
The campaigners are actively using social media sites and mobile phones to drum up support.
"YouTube refuses to remove Nabi [Prophet] Mohammad's offensive movie off their website, so we UAE ppl will boycott YouTube for 3 days (no YouTube at all). On 20, 21, 22 September. Please broadcast this message to everyone you know!" said a mobile message which spread across the Arab world."
The protesters expect the tech giants to suffer huge losses because of the initiative since a significant chunk of their revenue reportedly comes from the Islamic community. According to one estimate, Google would lose around $210 million (£130 million) if the campaign gains momentum.
© Copyright IBTimes 2023. All rights reserved.