Nigerians have become increasingly concerned with the health of their head of state, Muhammadu Buhari, who is currently in London for medical treatment. The 74-year-old leader had been scheduled to return to Nigeria on 6 February, but prolonged his stay to complete medical tests recommended by doctors.
The move fanned further rumours about his deteriorating health and is likely to erode confidence in his administration, in spite of the presidency's efforts to reject allegations of poor health.
Commentators have been discussing the matter on social media and poring over the president's health updates on the internet.
Claims of ill-health emerged earlier in January after Buhari announced he would take a 10-day vacation to relax and undergo a medical check-up in the UK.
Fake versions of news websites Metro UK and the Huffington Post – both domains were registered in Arizona, US, and are owned by the same company – reported that Buhari had died and "was caught committing suicide".
However, the Nigerian presidency has released several statements dismissing allegations Buhari was gravely ill or even dead.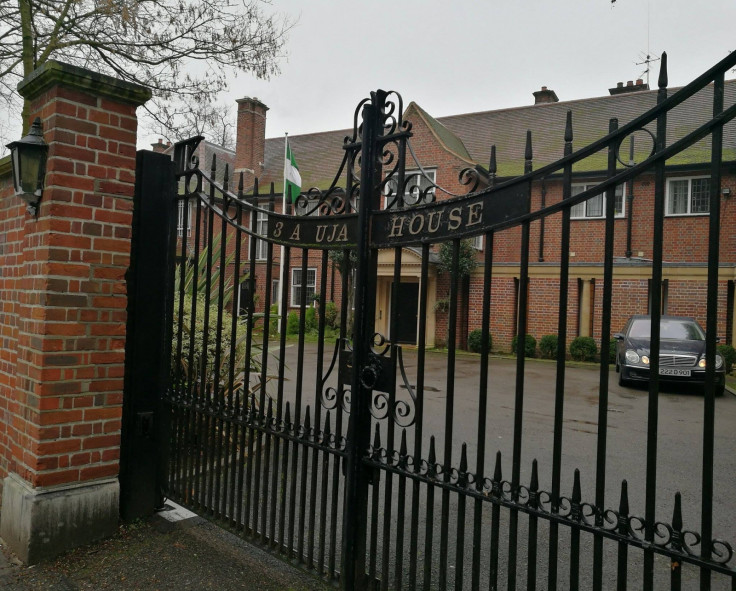 On 9 February, the presidency posted on social media pictures of Buhari meeting senator Bola Ahmed Tinubu and Chief Bisi Akande at Abuja House, in London's Holland Park, west London.
However, staff at the Abuja House refused to provide any updates on Buhari's health when IBTimes UK arrived at the government-owned building to find out more about his progress.
"We cannot give any information, the only way to find out more about Buhari is through the High Commission because they are the only people who can disclose any information," an official at Abuja House told IBTimes UK.
The individual declined to comment on Buhari's whereabouts at the time of the exchange on Friday (10 February) morning. The High Commission did not respond to a request for comment.
Buhari's spokesperson Femi Adesina told the BBC on 9 February that the president was not ill and was due to return to Nigeria soon.
Latest reports suggested Buhari could return to Nigeria on Saturday ( 11 February) with a source informing the Leadership newspaper all was set for his return.
People have drawn similarities between Buhari's medical leave and that of deceased former president Umaru Yar'Adua, who was admitted to a hospital in Saudi Arabia in 2009.
The country experienced a power vacuum filled only when the senate approved a 'Doctrine of Necessity' to allow the then vice-president Goodluck Jonathan to be sworn in.
---
Nigeria up close: Check out our Flipboard magazine
---