Nigeria's President Muhammadu Buhari extends medical leave in UK amid ill health rumours
Presidency says leader not in a serious condition and he is just awaiting medical test results.
Nigeria's President Muhammadu Buhari has extended his leave in Britain to complete medical tests recommended by doctors. The 74-year-old leader, who was expected to return to Nigeria today (6 February), informed the National Assembly he wanted to prolong his stay, further fanning ongoing rumours that his health had deteriorated.
It is not clear yet when the president is to return to Nigeria. His spokesperson Garba Shehu said in a post on his official Facebook page that the head of state was not in " any serious condition".
"He is not in hospital. He is in the residence at the Nigerian High Commission," Shehu said. "He and his delegation were ready to come home yesterday but for the delayed test result which came in yesterday necessitated that he delays his return. There is nothing to worry about as far as his condition is concerned."
The presidency released the statement after it repeatedly dismissed allegations the leader was dead. Allegations emerged earlier in January after Buhari announced he would take a 10-day-long vacation to relax and undergo a medical checkup in the UK.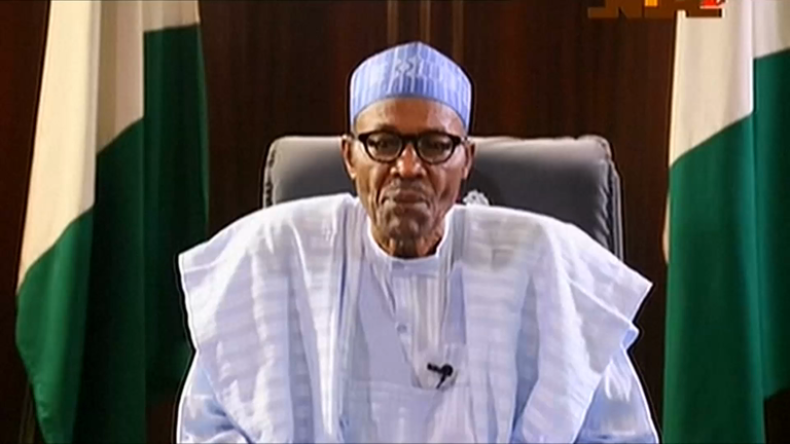 Shortly after, fake versions of news websites Metro UK and the Huffington Post – both domains were registered in Arizona, US, and are owned by the same company – reported respectively that Buhari had died and "was caught committing suicide".
The claims were quickly dismissed by Shehu, who reassured Nigerians that the president was "alive and well."
One day later, the presidency released pictures of Buhari "relaxing" in the UK. However, some alleged the pictures had been Photoshopped, with some calling on Buhari to personally dismiss the death claims.
Some have criticised the leader for going on vacation just days after the army mistakenly killed dozens of refugees and aid workers in an airstrike supposed to target Boko Haram militants.
Others also took to social media to comment on Buhari's holiday, with some suggesting he should have travelled to the country's northeast to visit survivors of the army's bombing, which occurred in the town of Rann, Borno state.
Before leaving Nigeria, Buhari said vice-president Yemi Osinbajo would act as president in his absence.
---
Nigeria up close: Check out our Flipboard magazine
---