Universal Pictures' has unveiled the debut teaser trailer for upcoming reboot The Mummy, starring Sofia Boutella, Russell Crowe and Tom Cruise. Along with the first-look footage, the studio released an ominous-looking poster for the movie and the news that a full trailer will be landing on Sunday 4 December.
At only 15 seconds long, the sneak peek keeps things brief, having enough time only to set up Cruise as the film's hero, Nick Morton (of course, he runs) and Boutella as the titular antagonist. Eagle-eyed viewers will glimpse Crowe in the clip around the 0:09 mark however, playing Dr Henry Jekyll.
Previously reported plot details have stated that The Mummy will see Nick travel to the Iraqi desert to locate a group of terrorists. However, the mission takes a life-threatening turn when the criminals turn out be nothing more than grave robbers who have all mysteriously died inside a secluded bunker. Upon entering, Nick and his team also succumb to some supernatural forces out of their control.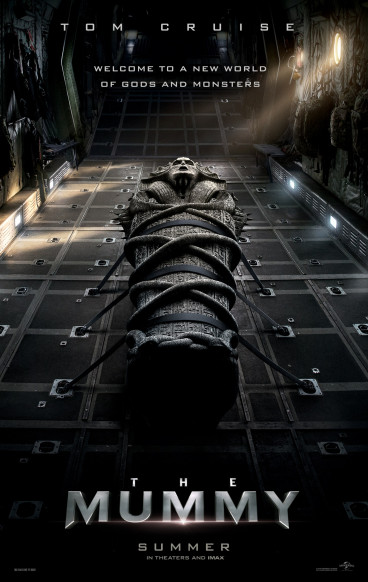 They soon realise the "bunker" they have infiltrated is actually a centuries-old tomb where an an ancient queen was imprisoned, after her birthright was wrongly taken away from her. Now, she has been awokened from her crypt and she's hungry for revenge.
According to the production studio, the film will take audiences "from the sweeping sands of the Middle East through hidden labyrinths under modern-day London", while also "bringing a surprising intensity and balance of wonder and thrills in an imaginative new take that ushers in a new world of gods and monsters."
The Mummy will be the first of Universal's planned series of classic monster movie reboots. While it is the only film so far in this connected universe to be officially announced, Frankenstein, Van Helsing and Dr Jekyll And Mr Hyde films are reportedly being developed.
Written by Jon Spaihts (Prometheus), and directed by Star Trek's Alex Kurtzman, The Mummy also stars Jake Johnson, Annabelle Wallis and Courtney B Vance. It's currently slated to reach both UK and US cinemas on 9 June 2017.
For more entertainment news follow A-List on Twitter @Alistinsider