The Belko Experiment red-band trailer: James Gunn reveals first look at office-based horror movie
Scandal actor Tony Goldwyn and Guardians Of The Galaxy's Michael Rooker star.
Before he started making cinemagoers laugh with movies such as Super, Movie 43 and of course, Guardians Of The Galaxy, film-maker James Gunn penned the scripts to films such as Dawn Of The Dead and Slither. Okay, so Slither had its fair share of comedic moments, but it looks like Gunn has opted for straight and intense scares in his latest outing The Belko Experiment, if its first trailer is anything to go by.
Part horror/part action thriller, the film sees 80 office workers become embroiled in a violent social experiment in their seemingly high-security high-rise in Bogata, Colombia. While their day appears to start off like any other, some begin to notice that some things aren't quite right; like a group of unfamiliar security guards entering a large hangar nearby and certain workers inexplicably not turning up. Soon, an unknown voice demands that the employees must murder a certain number of their colleagues or more of them will be killed by the person giving the orders.
While some panic and insist they carry out the voice's wishes, boss Barry Norris (Tony Goldwyn) tries to calm everyone down, deducing that the whole thing must be a sick, elaborate prank. That is, until people's heads start exploding and metal doors start blocking the building's exits...
Given that the sneak peek is red-band, it offers up plenty of violence but it's safe to assume that the film itself will likely up the stakes when it comes to all things grisly. In the clip, we see people wielding guns, meat cleavers and axes... standard things you have lying around the office, basically.
Directed by Wolf Creek's Greg McLean, working from Gunn's script, and starring Melonie Diaz (Fruitvale Station), John C McGinley (Scrubs), Michael Rooker (The Walking Dead) and John Gallagher Jr (10 Cloverfield Lane), the film is currently scheduled to reach US cinemas on 17 March 2017. Gunn also acted as producer on the movie.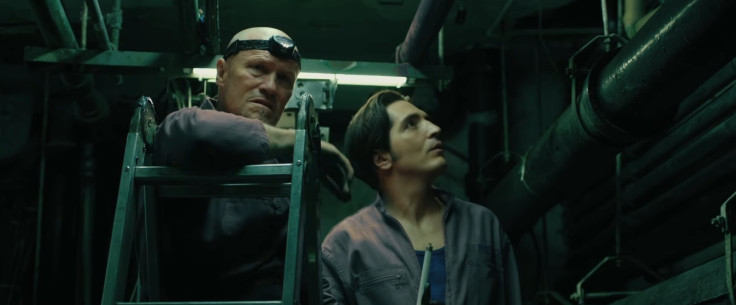 For more entertainment news follow A-List on Twitter @Alistinsider
© Copyright IBTimes 2023. All rights reserved.