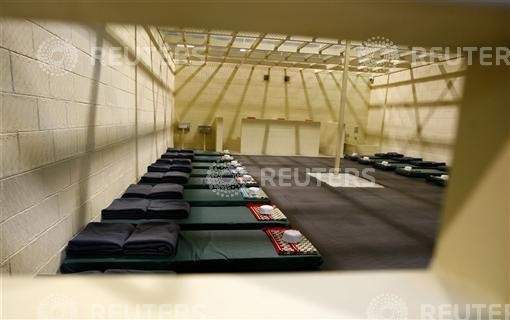 Inmates at a high-security jail are being reportedly bullied into converting to Islam and fear violent repercussions if they offend Muslim sensitivities, a Home Office report has suggested.
Extremist Muslim inmates at HMP Whitemoor in Cambridgeshire are alleged to be using "runners" to intimidate non-Muslims with threats of violence while the extremists themselves stay in the background.
The report says Muslims are now the predominant group in the jail and the influence of some of the big players is spreading fear among the other prisoners. Non-Muslims have avoided showered in their underwear or cooked bacon in the kitchens to avoid offending Muslim inmates.
The report, written by researchers at the Cambridge Institute of Criminology, said: "Conflict and tension existed between and within faith groups.
"Non-Muslim prisoners described wearing underpants in the showers out of 'respect' and fear and some Muslim prisoners described a form of intimidation relating to cooking (especially frying bacon) in the kitchens," said the research team.
HMP Whitemoor is a high-security prison near the town of March, which accommodates Category A and B adult male prisoners. It holds 440 inmates, most of whom are serving 10 years or more. Seven of them are convicted terrorists.
The report found that more than one third (35-39 percent) of prisoners were Muslim, compared to 11 percent average across all British jails.
The report adds: "Staff felt power had shifted towards the Muslim population as a whole in the prison (a form of appeasement, as they and some non-Muslims prisoners described it) and especially towards those prisoners considered to be radical or extremist.
"There were some intimidating 'heavy players' among the Muslim population, who appeared to be orchestrating prison power dynamics rather than propagating or following the faith."
From the sample of 23 Muslim prisoners interviewed in the research, 12 had been converted while in prison.
The report suggests a number of reasons why prisoners converted to Islam in prison, ranging from meaning and identity, dealing with the pains of long-term imprisonment, gang membership and coercion.
While some inmates voluntarily converted, the report suggests some did so out of fear of violence after threats were made against them and their family. One inmate said he was targeted because he wore a Remembrance Day poppy for his brother who served in the army.
The report concludes: "More prominent, in practice, were pressures (and temptations) felt by some prisoners to convert to Islam. Conditions in the prison made participation in Islamic practices the most 'available' option for those looking for belonging, meaning, 'brotherhood', trust and friendship."