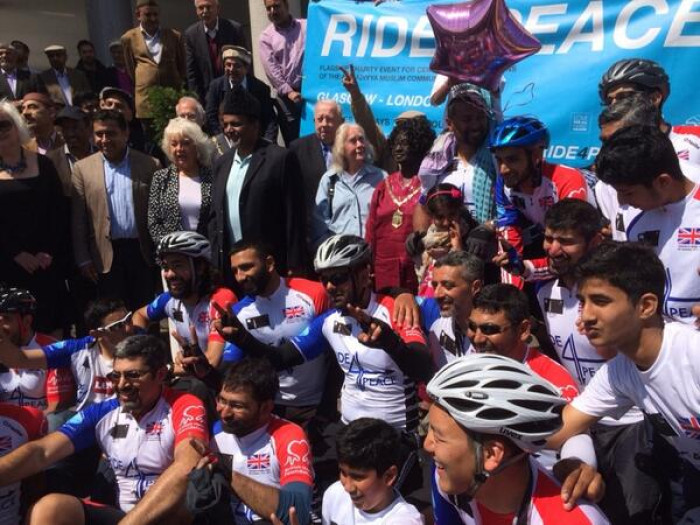 25 Muslims who started cycling in Glasgow last Sunday have reached London, where they were escorted by 200 local cyclists and welcomed by Justine Greening MP and local leaders before praying for peace and honouring the fallen as part of the D-Day commemorations nationwide.
The Ride4Peace event was organised by the Ahmadiyya Muslim Association to celebrate its 100 years of existence. Along the 600-mile route the cyclists stopped at 10 mosques and the Bailiff Bridge First World War Memorial, raising an estimated £100,000 for British charities.
National President of the Ahmadiyya Muslim community Rafiq Hayat said: "Our ride for peace reflects our commitment to serving this country and humanity through our devotion to peace, loyalty, charity and tolerance. As Ahmadi Muslims we feel privileged to have this opportunity to make a valuable contribution to charity and demonstrate the importance of good citizenship.
"As we remember those who gave their lives for the cause of peace it is our duty to make sure we do not let their sacrifices go in vain. As Muslims we seek to promote peace in every aspect of life, from serving humanity to upholding our hard fought freedoms."
This is not the first time the Ahmadiyya has organised charity events. Last month, members of the Ahmadiyya Muslim Youth Association undertook the "three peak challenge", scaling the highest peaks in England, Scotland and Wales, raising £7,500 for the Red Cross.
Dr Aziz Hafiz, the leader of the three peaks challenge, said: "We do a lot of work with the British Red Cross and were honoured to raising money for such a fantastic charity. We climbed to the top of both mountains in good time, but with only a short distance to go before reaching to summit of Mount Snowden we were forced to turn back due to adverse weather conditions.
"At each mountain we offered a prayer of peace and prayed for Great Britain and our fellow Brits. Some people unfortunately assume that there is a conflict between being Muslim and British. For us, as well as the other 7,500 young British Muslims who make up AMYA, it is our faith that drives us to love this great country and its people so much."