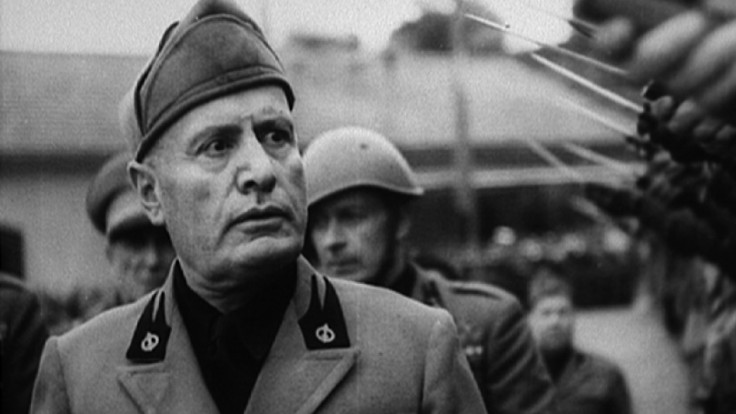 A new book has described Italian fascist dictator Benito Mussolini as a violent rapist and sex addict who imagined all his lovers as prostitutes.
Prime Minister Benito Mussolini ruled Italy with an iron fist from 1922-1943 all but ignoring democracy in 1925 when he set up an essentially legal dictatorship.
Known by his admirers as "Il Duce" or "leader" he was revered by some world figures, with Winston Churchill calling him the "Roman genius" and Gandhi lauding his "passionate love for his people".
But he was also accused of war crimes in Abyssinia (now Ethiopia) and the former Yugoslavia, and created a police state where the slightest of criticism could lead to violence carried out by his notorious Blackshirts.
He reportedly had former lovers thrown in asylums and despite spearheading a wave of reforms throughout Italy before the country joined World War II in favour of Nazi Germany.
Mussolini was deposed in in April 1945 when the Axis powers lost the war and was executed by partisans in the village of Mezzegra two days before Adolf Hitler killed himself.
His mistress, Claretta Petacci, was also executed that day. She had met Mussolini in April 1932 when the dictator, who was married to the mother of his five children, Rachele Guidi, drove past her in his bright red Alfa Romeo 8C.
After exchanging glances he signalled Petacci, who was a passenger in a Lancia being driven by her Fiancé, to stop the car, according to a new book entitled Claretta: Mussolini's Last Lover by RJB Bosworth (Yale University Press).
Claretta said she recognised Mussolini, telling her lover: "I'm going to pay homage to him. I've been waiting for such a long time."
Despite the 28-year age difference it was the start of a love affair between the two that was accepted by her mother, Giuseppina Petacci, who allowed Mussolini to spend nights at the family's 32-room mansion in Rome.
Giuseppina even arranged huge mirrors to be fixed to the walls and ceilings for the further sexual pleasure of Mussolini, it is revealed.
Claretta married her fiancé Lt Federici in 1934, but the jealous Mussolini solved this problem by sending him to Tokyo as the Italian air attache.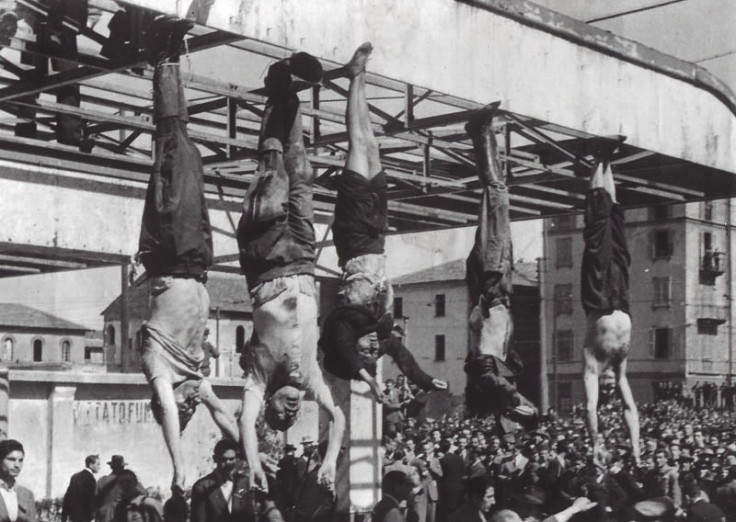 In a letter penned after a particularly intimate afternoon Claretta told her lover: "My great big love, you were so beautiful this evening. You were as aggressive as a lion, violent and masterful".
But this description of sex with Il Duce hints at a far darker sexual appetite, reportedly triggered in his youth.
A regular at the town brothel in his teens, and throughout his life claimed that to be aroused he had to imagine that the woman sharing his bed was a prostitute.
The book says that the only sex he understood was tantamount to rape, and he would sometimes bed four women a day, hand-picked from letters women had written him.
It was the women who resisted his advances that aroused his most aggressive desire.
In a letter revealed in the book he described raping a young virgin: "I grabbed her on the stairs, threw her into a corner behind a door and made her mine. She got up weeping and humiliated, and through her tears she insulted me.
"She wasn't in a sulk with me for long — for three months we loved each other, not with the mind, but with the flesh."
When faced with a confident women this was said to pose a problem for Il Duce so when the Italian king's daughter, Princess Maria José, reportedly attempted to seduce him in a bathing hut in Rome he admitted that he "failed to rise to the occasion".