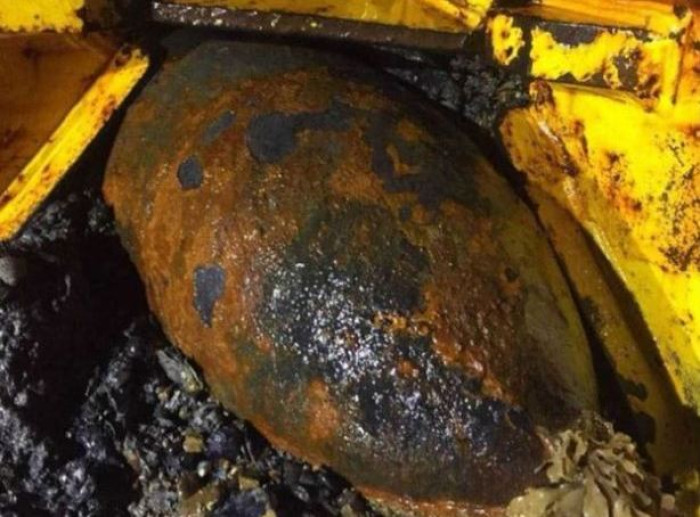 A 300lb (130kg) bomb which lay at the bottom of Portsmouth harbour for over 70 years brought the area to a standstill on Wednesday (22 February) after being uncovered by a dredger.
The SC250 bomb — dropped by the German Luftwaffe during World War Two — was found as preparations were being made for a major upgrade of the harbour that will allow new 65,000 tonne Navy aircraft carriers to dock in the city.
Navy crews quickly locked down the area, with trains between Portsmouth and Southsea and the harbour suspended. Shopping precinct Gunwharf Quays was also sealed off.
Specialist bomb experts and Navy diving teams carefully towed the bomb to a safe stretch of open water where it was dramatically blown up, sending fountains of water high into the sky.
"These bombs are still dangerous despite being several decades old and sitting at the bottom of the seabed for such a long time," said Capt. Roger Readwin of the Royal Navy.
Hampshire Constabulary said it had "activated a pre-arranged multi-agency plan" with the Navy and other organisations.
"Our priority is to ensure public safety and minimise community disruption while the ordnance is detonated by the Royal Navy Explosive Ordnance Disposal," the police said in a statement published by the BBC.
Portsmouth was repeatedly targeted by the German bombers during World War Two, and in 1941 alone over 500 people were killed in the city as a direct result of enemy attacks. However many bombs here as elsewhere missed their target, falling into the sea or onto soft earth without exploding.
It is estimated up to one on ten of all bombs failed to detonate and many remain hidden.
However other countries are far more seriously affected by the phenomenon. In Germany there have been a number of incidents where bombs have exploded to lethal effect.