Alcatel has announced two 5-in smartphones with styluses, magnetic screen covers and the Samsung Galaxy Note 2 in their sights.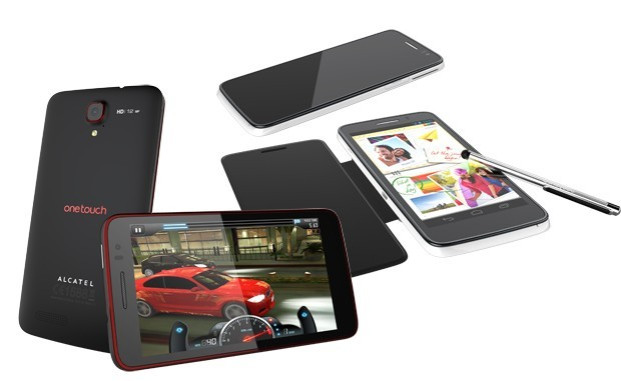 Revealed at Mobile World Congress in Barcelona, the Alcatel's One Touch Scribe range consists of the Scribe Easy and more powerful Scribe HD.
The Scribe Easy has a 5in WVGA screen, dual-core 1.2GHz processor, HD sound - which we presume means better-than-average speakers - and a magnetic flip cover that looks remarkably like Apple's Smart Cover for the iPad.
Around the back, there is a 5-megapixel camera that can shoot 720p HD video, while the front-facing camera can manage no more than VGA quality.
Much like Samsung's S-Note app on the Note 2, Alcatel has developed some applications that are optimised for the Scribe range. This includes Scribe Note for note-taking, and a movie making app.
Whereas the Note 2 uses a Wacom stylus with a precision tip able to detect more than 1,000 levels of pressure, Alcatel's Scribe range makes do with a rubber-tipped stylus and none of the Wacom technology.
Scribe HD
The flagship One Touch Scribe HD keeps the same 5in size as the Easy, but resolution is increased to 720p high definition, while power is also up, thanks to a 1.2GHz quad-core processor.
The rear camera of the Scribe HD is 8-megapixel with 1080p HD video recording, and the front-facing camera can manage 720p HD.
Called MagicFlip, the magnetic screen protector works much like the iPad Smart Cover, in that opening the case unlocks the device; the case and stylus are both included with each Scribe smartphone.
The Easy ships with Android 4.1 Jelly Bean, whereas the Scribe HD will come with Android 4.2, both devices offer dual-SIM supports so you can have two numbers in one phone, and both get a huge 2.500 mAh battery.
Both models of Scribe have just 2GB of internal storage, but thankfully there is a microSD card reader to easily increase that.
The Scribe Easy can be had in red, blue and yellow, while the Scribe HD will be sold in black, white, red and yellow. Alcatel is yet to announce pricing or a release date for the Scribe range.