Pilanesberg National Park is stunning. In fact, with its dramatic, green mountain-scape as backdrop, it reminds me quite a lot of the Cape.
But in fact, it's a massive 220-mile game reserve in South Africa's North West Province, about two hours drive from Johannesburg.
The fact that it is malaria-free, combined with its close proximity to Gauteng – which includes Jozi and Pretoria and, as such, is the richest and most urbanised province in the country – means that it is now the most popular game-spotting location in South Africa.
And that's ahead of even the world-renowned Kruger National Park, further north on the Zimbabwe and Mozambique borders.
This is not least because, while Kruger is often deemed a must-see for both tourists and locals alike, it also happens to be a good five-hour trek from Joburg and so requires an awful lot more planning - which includes stocking up in advance on malaria tablets.
Anyway, seeing as my first guest during our stay here had graced us with her presence, we decided to treat ourselves to a big game adventure. Thus far, Jozi has reminded her very much of Australia in general, and Melbourne in particular, in terms of both look and feel.
So one of the aims of our trip to Pilanesberg was to give her at least a glimpse of another side of South Africa – and what better way to do it than by escaping the big city and venturing out into the countryside to see the 'Big Five'.
The 'Big Five' animals – water buffalo, elephants, leopards, lions and rhinos – were so-called by hunters during the last couple of centuries as they were considered the five most dangerous to pursue – mainly because they had a habit of fighting back if a gun was pointing at them.
There's also an equivalent 'Small Five' in the shape of ant lions, buffalo weavers (birds), elephant shrews, leopard tortoises and rhino beetles. But I suspect fewer people tend to go leaping into trucks, chasing around trying to find them.
Game driving
Which is just what we did after arriving in Pilanesberg with plenty of time to spare to make our three-hour-long 4.30pm afternoon game drive.
Within only 10 minutes of being out of our residence at the Bakubung Bush Lodge, we happened upon a number of giraffe intent on munching their way through a 20-hour-long lunch.
And it was creature upon creature from there on ahead – millions of deer and antelope-style beasts, including South Africa's graceful national animal, the springbok; a couple of lionesses lazing in the long grass; and even a rhino family taking their evening constitutional.
There were also hordes of blue wildebeest, otherwise known as gnus because of the resonant sound they make, hanging around with their good mates, the zebras.
One of the reasons they get on so well apparently is that, being big drinkers, the former are gifted at sniffing out water, while zebras' fabulous hearing and eyesight mean they are quick to sound the alarm should lions and the like come hunting.
But we were even more successful in our mission the next day. Despite the trauma of having to get up at 4.45am for a second game drive that kicked off at 5.30am, we were blessed with the sight of an immense bull elephant having his breakfast by the roadside.
There was also a normally nocturnal brown hyena hauling a hefty wildebeest leg back to her underground den, followed by three fox-like jackals being teased by plovers as they led them away from a herd of horned impala.
And all against the stupendous backdrop of three concentric rings of mist-covered mountains, formed 1,200 million years ago following a volcanic eruption, which rise dramatically out of the bushveld – a scrubby mix between the vegetation of the arid Kalahari Desert and the wetter lowveld region of Mpumalanga and KwaZulu-Natal.
This means that Pilanesberg itself is located in the eroded crater of an extinct volcano and is, in fact, one of the largest volcanic complexes of its type in the world. That, plus its rare rock formations and mineral deposits obviously makes it a bit of a must-see for keen geologists.
Creating Pilanesberg
Another interesting fact about the National Park, however, is just how it was created in the first place, not least because the story mirrors South Africa's own recent troubled history.
The northern half of the reserve had traditionally been owned by the Bakgatha tribe, but the southern chunk had been seized from the Tswana people and sold to various Boer farmers by the then government of the Transvaal in the 1860s.
By the 1960s, however, those same farms were mostly repurchased by the apartheid government for resettlement by the Bakubung tribe from nearby Ventersdorp.
Control of the region was then passed to Bophuthatswana, a large 'Bantustan' or black homeland/self-rule area, which was one of the few to fulfill apartheid policy and became independent from South Africa in 1977.
Following this momentous event, President Lucas Mangope decided to pursue recommendations from nearby Potchefstroom University to introduce wildlife and convert the area into a game reserve.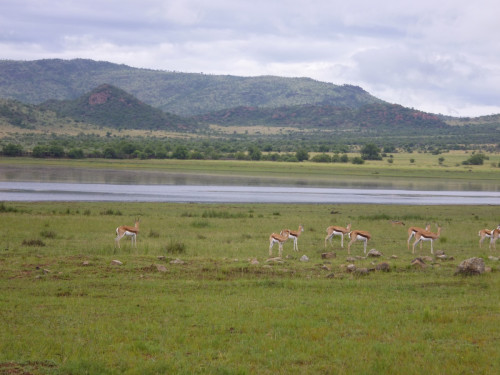 After agreement was reached with the local tribes on whose land it was to be sited – including with Bakgatha chief, Tsidimane Pilane, after whom the Park is named - Operation Genesis was able to begin. It amounted to the largest game resettlement programme ever to take place anywhere in the world and resulted in a huge 6,000 animals being released into their new habitat.
Following the collapse of apartheid and the country's first democratic elections in 1994, however, factional infighting, with the aim of forceably reoccupying Bophuthatswana, led to President Mangope being deposed and the homeland – plus Pilanesberg along with it – being absorbed back into South Africa.
But as tourism has continued to boom in the country over the last 20 years, so too has Pilanesberg, making it, despite all the odds, a real South African success story.
Cath Everett, a resting journalist who has written about business, technology and HR issues for over 20 years, relocated from the UK to South Africa with her husband