Myanmar: Aung San Suu Kyi to Run for 2015 Presidency [VIDEO]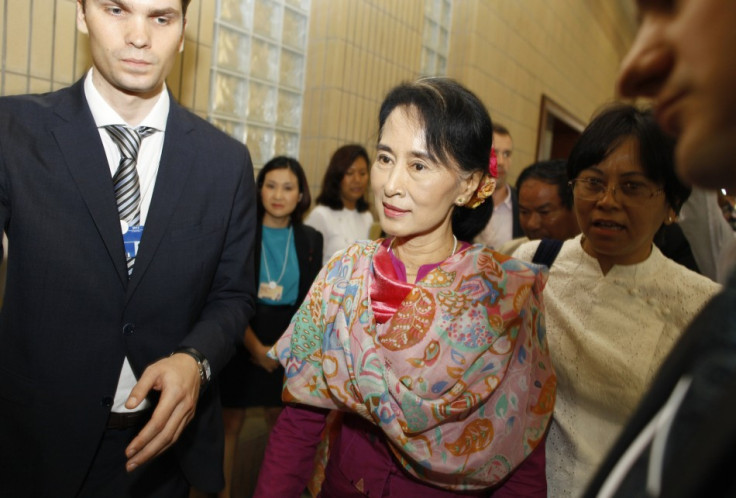 Myanmar opposition leader and pro-democracy activist Aung San Suu Kyi has officially revealed her desire to run for the country's 2015 presidential elections.
Talking at the World Economic Forum in the capital Naypyidaw, the Nobel peace laureate urged the government to amend the constitution, drafted by the military junta, which prevents her from running for elections. According to the legislation, anyone whose spouses or children are overseas citizens cannot lead the country.
"I want to run for president and I'm quite frank about it," "If I pretended that I didn't want to be president, I wouldn't be honest and I would rather be honest with my people than otherwise."
Suu Kyi's two sons with her late husband Michel Aris are British. The clause is thought to be aimed at blocking the Nobel laureate. Despite reforms implemented by Thein Sein, Suu Kyi claims the majority of Burmese people are not taking part in the country's new path for democracy.
"If you talk to the man on the street, if you talk to people in villages, the great majority of them would say that their lives have not changed since 2010."
The activist said she does not believe in "indulging in optimism" for the constitution amendments. "Let me put it this way. I've always said hope has to be backed up by endeavour," she said.
"So, rather than being optimistic or hoping that the constitution will be amended we're going to work for the constitution to be amended."
Suu Kyi has been accused of not standing for the rights of Rohingya Muslims, the world's most persecuted minority, in the western Rakhine state.
Suu Kyi says she has been speaking out "but it's just that they're not hearing what they want to hear from me".
"I cannot doctor my answers to please everybody. I have to say what I believe in. And I believe that the rule of law is the first step towards any kind of solution to the problem in Rakhine State and other parts of the country."
"We must get to the point of reassessing the law to see if it comes up to international norms or not."
© Copyright IBTimes 2023. All rights reserved.