Myanmar Authorities 'to Blame' for Ethnic Cleansing of Rohingya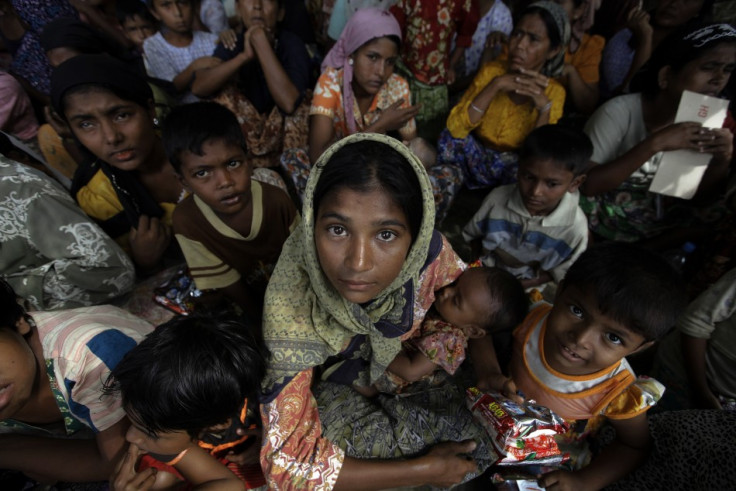 A new report by New York-based Human Rights Watch has slammed Burmese authorities and members of Arakanese groups for "crimes against humanity" in a campaign decried as "ethnic cleansing" of Rohingya Muslims in the Rakhine state.
More than 125,000 Rohingya have been displaced as a result of violence encouraged, organised and carried out by Burmese officials, community leaders and Buddhist monks with the placid consent of security forces according to the report, based on more than 100 interviews carried out during 2012.
Government authorities destroyed mosques, carried out mass arrests and halted aid to displaced Muslims in the aftermath of clashes between Arakanese and Rohingya in June 2012. On 23 October 2012, in the worst incident at Yah Thei village, 70 Rohingya were killed, including 28 children hacked to death, as riot police and security forces divested the Rohingya's rudimentary sticks.
Security forces, according to HRW, "stood by or joined with large groups of Arakanese men armed with machetes, swords, homemade guns, and Molotov cocktails who descended upon and attacked their [Rohingya] villages". But the ethnic cleansing campaign has been backed even by president Thein Sein himelf, seen by many as a reformist, according to Burma Campaign UK director Mark Farmaner.
"The Burmese government participated, encouraged and stood by the violence [against Rohingya], including president Thein Sein, who last year called for international help to deport the Rohingya," he told IBTimes UK. "Anyone in the country has prejudice against them. The president supports the prejudice by saying they don't belong to Burma and reinforcing those who conduct violence."
The Rohingya have never been granted citizenship in Myanmar and a 1982 law excluded them from the list of officially recognised minorities.Many Burmese consider the Rohingya as unwelcome migrants from Bengal. The state-run press differentiates between "locals" ie Arakan Buddhists and "Bengalis" to indicate the Rohingya. The latter are denied access to education and employment and face "unacceptable restrictions on movement, marriage, and reproduction" according to a report by Burma Campaign UK.
Planned violence
Satellite images, featuring only five of the 13 townships attacked since June last year, shows 4,862 structures have been destroyed across 348 acres of mostly Muslim-owned residential property.
The October violence was not impromptu. Two groups were behind the anti-Rohingya activities: the powerful Rakhine Nationaliities Development Party (RNDP) and the local Buddhist monks, the sangha.
"RNDP is the biggest party in the Rakhine state, with several seats in the regional parliament. It's a big organisation on the ground," said Farmaner. "They were the first ones to use the new political space that was opened after the 2010 regional elections to incite hatred against the Rohingya."
These groups issued several anti-Rohingya pamphlets and public statements, "explicitly or implicitly denying the existence of the Rohingya ethnicity, demonising them, and calling for their removal from the country, at times using the phrase 'ethnic cleansing'," says the report.
In June 2012, for example, monks in Sittwe delivered an incendiary pamphlet to the local Arakanese population, telling all Arakanese that they "must not do business with Bengalis [Rohingya]". The pamphlet accused the Rohingya of seeking to eliminate the local Buddhist population. In other cases, the spectre of links to militant Islamist organisations such as Al-Qaida has been invoked to justify ethnic cleansing and violence.
HRW's allegations were rejected by Win Myaing, a government spokesman for Rakhine state, AP news agency reported.
Restrictions on humanitarian aid
The report also uncovers evidence of four mass-grave sites in Arakan state and warns over a major humanitarian crisis triggered by the Burmese government's restrictions on humanitarian aid to the displaced Rohingya. After the violence in June 2012, the authorities denied permission for the resumption of specific aid programmes by several organisations, including Medecins Sans Frontieres (MSF), and it has been very difficult for the organisation to restart its programme.
"Almost a year since the clashes first broke out, tens of thousands of people are still living in makeshift camps with insufficient shelter, sanitation, food and healthcare," Jo Kuper, Operational Communications Adviser for MSF, told IBTimes UK. "Programmes that were and continue to be affected include our primary healthcare, TB, and HIV programmes.
"The most common diseases seen in our clinics are skin infections, worms, chronic coughing, diarrhoea and respiratory tract infections, and many children are experiencing severe malnutrition," she continued. "In a recent diarrhoea outbreak in one camp at least three children under 5 died, and hundreds continue to suffer from severe diarrhoea."
Accused of pro-Rohingya bias, MSF is still facing intimidation by "a small but vocal and influential group" within the local Rakhine community. "It is this intimidation, and not formal permission for access, that is the primary challenge MSF and others seeking to provide lifesaving humanitarian assistance face," Jo said.
Tens of thousands of people are still unable to access urgently needed medical care, according to MSF, but the worst may be yet to come, according to Kuper.
"MSF is particularly worried about the rainy season, which has already started in Rakhine state - one of the wettest places in the world," she said. "MSF has already seen several makeshift shelters, and its clinic structures destroyed from rains in the last two weeks.
"In a makeshift camp in Sittwe township the camp was flooding due to this storm and 10% of the very vulnerable population had to leave and find again a new place to stay."
EU sanctions
The HRW report came as the EU is expected to decide whether to lift sanctions - including the freezing of assets of more than 1,000 Burmese companies, travel restrictions and ban on EU investment in much area - imposed on Burma. UK foreign secretary William Hague has already spoken out in favour of lifting the sanctions, in response to recent reforms by Thein Sein, who has freed political prisoners and changed policies on censorship.
But Farmaner argues that the EU's proposal is "shameful and hypocritical when there are still such abuses going on".
"Last year they suspended sanctions but one of the key points that have to be met was the wellbeing and welfare of the Rohingya," he said. "Since then, their condition has deteriorated at the point that they are subject to ethnic cleansing. It's hard to see where it can get worse."
© Copyright IBTimes 2023. All rights reserved.