Flooding in Myanmar has killed at least 27 people, and the death toll is expected to rise as rescue workers reach some of the hardest-hit and most remote areas. "The death toll in Rakhine State alone will reach several hundred. There are a number of far flung areas that we haven't been able to reach," Hla Saw, a senior member of the Arakan National Party, said. The state was battered by the remnants of Cyclone Komen, which made landfall in nearby Bangladesh.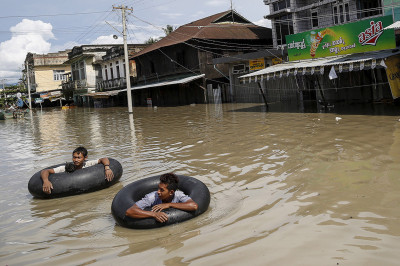 The situation in Rakhine is considered especially dangerous, because more than 100,000 internally displaced people who fled their homes due to civil conflict live in poorly built and badly situated camps.
More than 150,000 people have been affected by severe flooding after weeks of torrential monsoon rains triggered landslides and caused rivers to burst their banks. The state-owned Global New Light of Myanmar newspaper reported that 700 houses had been destroyed by landslides in Hakha, capital of Chin State.
Myanmar's president Thein Sein visited Kalay town in Sagaing division, one of the worst-hit areas. He said that water levels are slowly receding and he hopes people can soon return to their homes. He told state TV that the government plans to begin reconstruction once evacuated people return to their homes. Water levels were as high as 2.5m (eight ft) in Sagaing and 4.5m (14ft) in Rakhine, according to the government.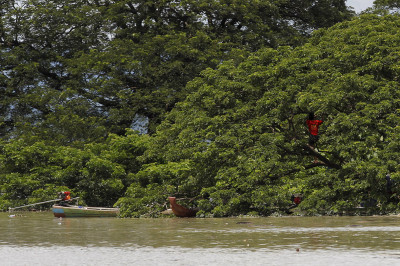 Though rain has stopped in most areas, the recovery effort is a major test for impoverished Myanmar. The country has only basic infrastructure and medical facilities and is ill-equipped to deal with disasters, as shown when Cyclone Nargis battered the Irrawaddy Delta in 2008, killing 130,000 people.