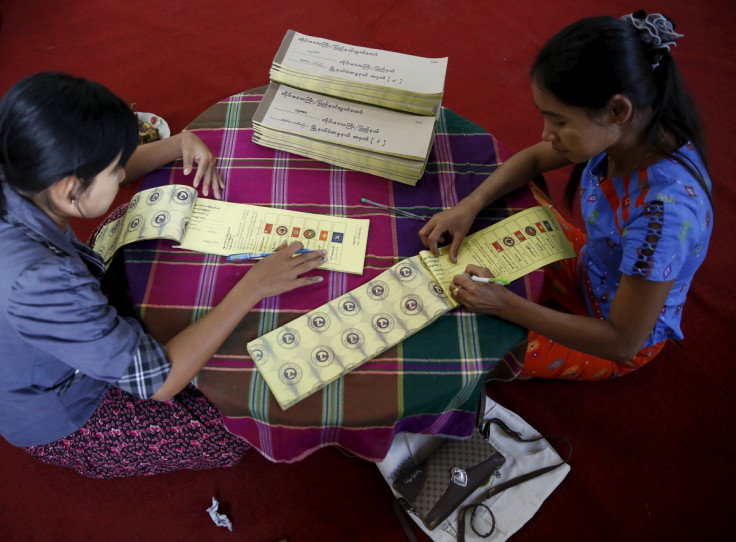 Preliminary unofficial results in Myanmar's historic elections after 25 years suggest victory for Aung San Suu Kyi's National League for Democracy. But the official results could be delayed by up to several days due to a procedural change ordered by the nation's election commission.
In a major blow for the ruling Union Solidarity Development Party (USDP), the NLD has beaten Vice President Sai Mauk Kham and prominent ruling party MP U Hla Swe, according to Myanmar's television channel MRTV. Presidential hopeful Thura U Shwe Mann conceded to U Than Nyunt in the Phyu township constituency as Pyithu Hluttaw candidate for the NLD. Shwe Mann could still be a presidential contender.
It could be a landslide victory for NLD, tweeted Thant-Myint U, presidential advisor and grandson of former UN Secretary-General U Thant. However, an unexpected change of procedure announced by the Union Election Commission (UEC) could delay the official results by a few days.
The NLD has issued a formal complaint over the sudden ruling instructing township election officials to communicate their results directly to the UEC central headquarters in the capital Nay Pyi Taw. The stated procedure was for results to be sent to district and state headquarters.
The UEC has said no results will now be made public until at least 3pm (8.30am GMT). But unofficial results from some of the 40,000 polling stations favoured the NLD, sending waiting crowds into celebrations on the streets of Yangon, reports Myanmar Times. The party has been confident of a win given the large 80% turnout announced by the election commission.
A local news group in its exit poll had predicted on Sunday that the NLD could pull in as much as 90% of the votes. The poll, by the Eleven news group, surveyed more than 1,300 people across half of the country's states and regions, reported Kyodo News.
With a quarter of the 664 seats reserved for the military, the NLD will have to win two-thirds of the rest for an outright victory over the ruling party. Also, Suu Kyi is constitutionally barred from assuming the presidency because her late husband was a foreigner, as are her two sons. The Nobel laureate has said she would assume a post that is above that of the president's.
Speaking to reporters in Nay Pyi taw, military commander-in-chief Min Aung Hlaing said the military would accept the people's verdict. There would be no repeat of the last elections in 1990 when the NLD scored a landslide victory but was still denied the chance to rule, he said. The army then refused to accept the results and placed Suu Kyi under house arrest.
In the current elections, there have been concerns of foul play by the military-backed USDP, which has been in power since 2011. However, the elections were largely free of violence barring some voter registration irregularities in some pockets.