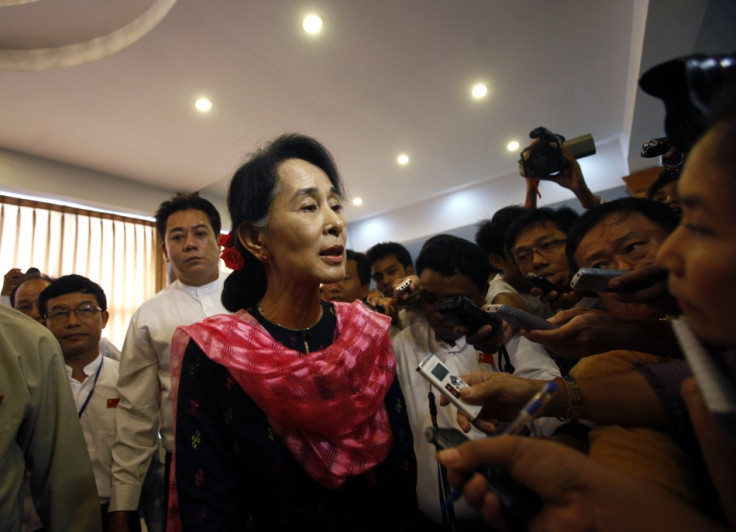 A madrassa (Muslim religious school) and a mosque have been reportedly attacked and torched by an angry Buddhist mob in the northern Myanmar city of Lashio after rumours that a Muslim man had set a Buddhist woman on fire.
Other reports stated that the mob set ablaze shops and a Muslim orphanage in the city, about 120 miles south of Muse on the border with China.
As the situation calmed presidential spokesman Ye Htut said there were no casualities and police were "taking care of security measures".
Mark Farmaner, of Burma Campaign UK, said the latest round of violence fitted a pattern of anti-Muslim hatred, inflammatory speeches and distribution of anti-Muslim leaflets.
"One incident is enough to spark violence and large-scale attacks, while authorities are doing nothing," he told IBTimes UK. "Even firefighters were doing nothing. They don't need order to put out a fire."
In March at least 44 people died during clashes in the central city of Meikthila after a rampage by Buddhists mobs incited by monk Ashin Wirathu, the self-styled Burmese bin Laden who called for a national boycott of Muslim businesses in divisive speeches from his monastery in Mandalay's Masoyein.
Burma Campaign UK is investigating whether Wirathu and the 969 nationalist campaign is responsible for the latest clashes in Lashio.
The violence exploded after 48-year-old Muslim man Ne Win was arrested for allegedly setting fire to a 24-year-old Buddhist woman named Aye Aye Win. MRTV television said Ne Win poured petrol over Aye Aye Win and set her on fire.
After the arrest, Buddhists surrounded the police station and demanded he be handed over, according to Reuters. The police refused and the crowd went on rampage. According to one source cited by Farmaner, the man arrested had mental health problems.
More vocal Suu Kyi
The clashes came after Myanmar opposition leader and pro-democracy activist Aung San Suu Kyi spoke out against a policy by Rakhine's local government to limit Muslim Rohingya families to two children in an attempt to curb their rise in population.
"They shouldn't discriminate. This is against human rights," Suu Kyi told journalists.
The Nobel prize-winner has been criticised in the past for dodging questions over the treatment of Rohingya.
About 800,000 Rohingya live in Rakhine state in the west of Myanmar. The minority group is considered stateless under Burma's citizenship law of 1982. Many Burmese consider Rohingya as unwelcome migrants from Bengal.
"Local authorities have been trying to implement those kinds of measures for ten years," said Farmaner. "They have more confidence now because the government-backed Rakhine commission made recommendation for mandatory and not voluntary family planning in its report, whose publication has been delayed for months."
In 2012, at least 192 people were killed and 140,000 displaced.
Burma Campaign UK has accused the Myanmar's government of violating at least eight international laws with its treatment of the Rohingya.