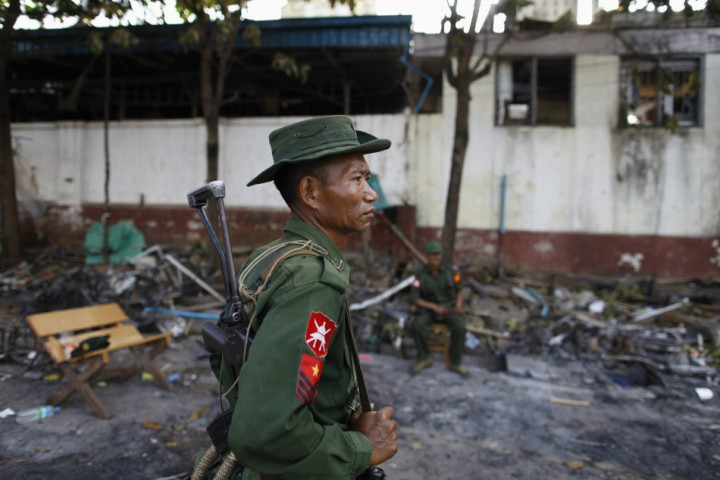 A Muslim man has been sentenced to 26 years in prison in Burma for an assault on a Buddhist woman which sparked a two-day wave of violence in Lashio.
Nay Win, a 48-year-old drug addict, was convicted of setting the woman ablaze at a petrol station, leaving the victim with severe burns.
Violence erupted after police refused to hand over Nay Win to an enraged Buddhist crowd. A madrassa (Muslim religious school) and a mosque have reportedly been attacked and torched by the mob.
"We arrested about 60 people found by security forces with sticks and knives during the violence," police spokesman Major Moe Zaw Linn told the AFP news agency.
Mark Farmaner, of Burma Campaign UK, said the round of violence fitted a pattern of anti-Muslim hatred, inflammatory speeches and distribution of anti-Muslim leaflets.
"One incident is enough to spark violence and large-scale attacks, while authorities are doing nothing," he told IBTimes UK. "Even firefighters were doing nothing. They don't need order to put out a fire."
In March at least 44 people died during clashes in the central city of Meikthila after a rampage by Buddhist mobs incited by monk Ashin Wirathu, the self-styled 'Burmese bin Laden' who called for a national boycott of Muslim businesses in divisive speeches from his monastery in Mandalay's Masoyein.
Authorities have sentenced ten Muslims to prison terms to up of 28 years in connection with the violence in Meikhtila. No Buddhists have been convicted.
The latest conviction comes as Buddhist monks from across Burma are due to meet on Thursday for talks about the religious and sectarian violence that has rocked the country.
Dhammapiya, a monk acting as a spokesman for the event, said that around 200 Buddhist clerics have been invited to the gathering at a monastery outside Yangon.
"Foreigners think that the violence in Myanmar is being led by Buddhist monks," he told AFP on Wednesday. "Monks collectively will discuss how to stop people committing violence and how to help the government solve the problem."
Wirathu is among those expected to attend the event. Dhammapiya denied that the '969' apartheid-like campaign has been responsible for several episodes of sectarian violence around the country this year.