Mysterious bright object spotted hovering over Chile volcano sparks UFO sighting rumours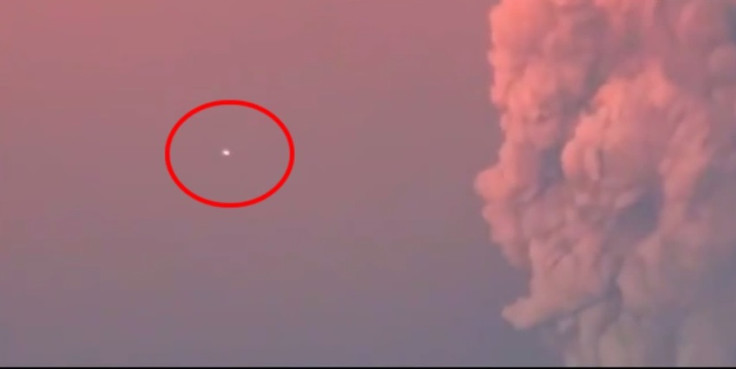 An unidentified flying object was spotted hovering near the erupting Calbuco volcano of Chile sparking UFO sighting rumours all over again.
The suspected UFO was captured by a woman on her camera when she was trying to videograph the volcano that erupted on 22 April after more than 42 years.
The supposed alien craft with flashing twin lights was spotted in the sky amidst the clouds of dust and ash. However, moments later the flying object disappeared into the thick fiery sky.
After the video was uploaded on YouTube on 23 April by a user named Ana Luisa Cid, it has gone viral and has garnered more than 288,000 views.
Open Mind UFO says that the video uploader Ana Luisa has pointed out that some have suggested the bright object might be a drone or helicopter which is trying to capture the aerial footage of the volcano.
However, she points out, "What is striking, in my opinion, is that the object remained static, then vanished. Optical illusion?"
Nearly 4,000 local residents were forced to evacuate as ash and smoke engulfed the sky.
Meanwhile, TVN, Chile's state-owned television network, has posted an aerial shot of the volcano eruption and there are chances that the supposed UFO is nothing but a helicopter.
Watch the video below.
Chile news channel T13 has also posted a story on 23 April about a "pilot who was mistaken for a UFO." They have also interviewed the pilot who was allegedly flying over the Calbuco volcano trying to take aerial shots.
© Copyright IBTimes 2023. All rights reserved.