The Shadow Brokers, a mysterious hacking collective which previously leaked the so-called "cyberweapons" which led to global WannaCry ransomware attacks, has released a fresh statement promising more leaks will be released into the public domain from June 2017.
In typically broken English, the group said this week (16 May): "TheShadowBrokers is launching new monthly subscription model. Is being like wine of month club. Each month peoples can be paying membership fee, then getting members only data dump each month."
It claimed to have exploits for web browsers, routers, operating systems (including Windows 10), compromised data from banks and Swift providers and stolen network data from Russian, Chinese, Iranian, and North Korean nuclear missile programs.
The claims remain unverified at the time of writing. The group, which previously released legitimate information, branded the move a "data dump of the month" service.
The Shadow Brokers first emerged last year, claiming to have accessed sensitive information from "The Equation Group", a hacking unit with suspected links to the US National Security Agency (NSA).
"TheShadowBrokers is not being interested in bug bounties, selling to cyber thugs, or giving to greedy corporate empires," the statement continued.
"TheShadowBrokers is taking pride in picking adversary equal to or better than selves, a worthy opponent. Is always being about theshadowbrokers vs theequationgroup," it added.
The identity of the collective remains unknown – but some believe it has ties to Russian intelligence. It initially attempted to "auction" of stolen cyberweapons for one million bitcoin, however this – as expected – failed to attract much interest. It later started leaking the files.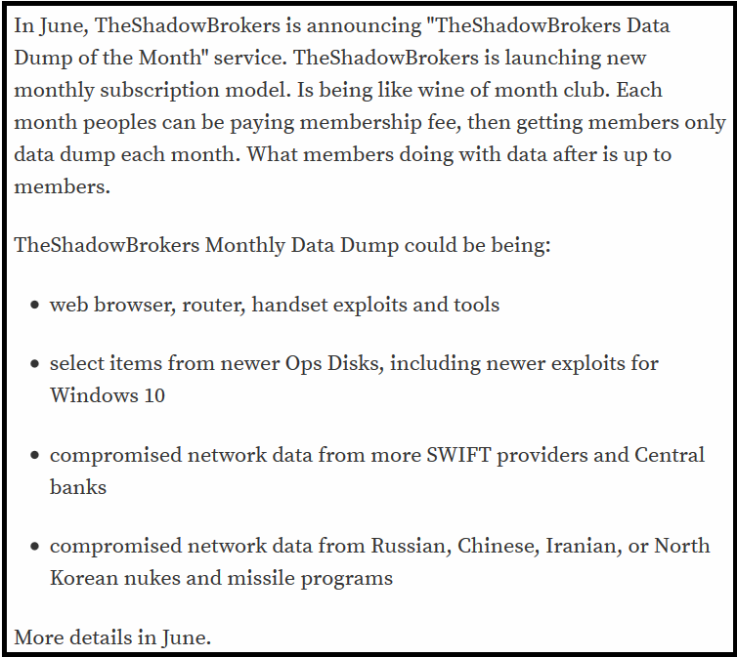 Screenshot: Shadow Brokers new statement
Screenshot
In April 2017, it released a Microsoft Windows exploit which led to a global computer meltdown as unknown hackers used the vulnerabilities to enhance a strain of ransomware known as WannaCry.
Within 48 hours, infections spread to 200,000 victims in 150 countries, Europol said.
The fresh Shadow Brokers statement is lengthy, decrying the lack of support for its previous auction, Google Project Zero's alleged links to The Equation Group, the firing of FBI director James Comey and Microsoft's terse response following the WannaCry incident.
"Shadow Brokers is feeling like being very responsible party about Windows dump," it claimed.
The group also referenced recent claims that WannaCry and North Korea's "Lazarus Group" are linked by shared malware code. The finding emerged late on 15 May, and leading cybersecurity firms, including Kaspersky Lab and Symantec, are now investigating.
"The oracle is telling theshadowbrokers North Korea is being responsible for the global cyberattack WannaCry. Nukes and cyberattacks, America has to go to war, no other choices! (Sarcasm)," the Shadow Brokers stated. You can read the full posting here.