Nabeel Rajab: 'Bahrain Has Turned into Dictatorship Kingdom'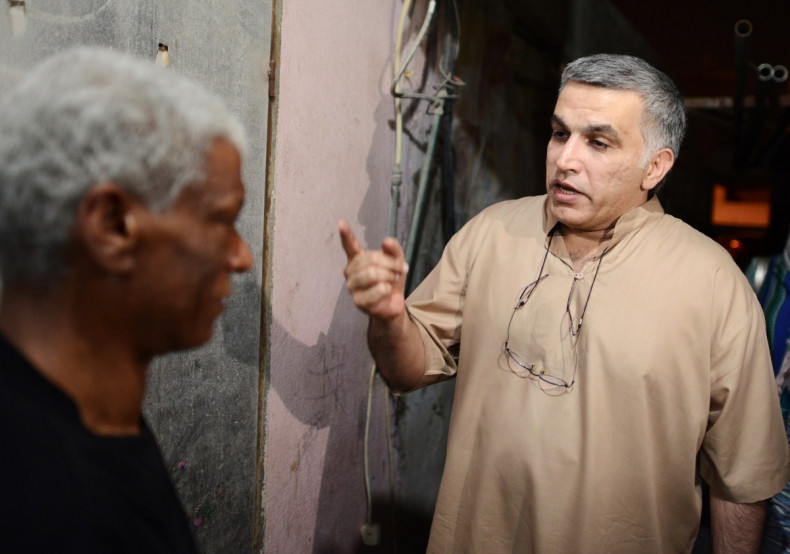 The set of repressive laws passed in Bahrain has turned the Gulf Kingdom into a "dictatorship kingdom", newly-released human rights activist Nabeel Rajab has told IBTimes UK.
Rajab, who is president of the Bahrain centre for human rights (BCHR), was recently freed after spending two years in prison for taking part in illegal gatherings and disturbing public order.
The activist, one of the several leading pro-democracy campaigners arrested in the regime's crackdown on the uprising in 2011, was considered a prisoner of conscience by Amnesty International.
He told IBTimes UK that the human rights situation in the country has worsened since he was imprisoned in July 2012, after being detained several times in connection with pro-democracy protests in the Gulf kingdom.
"The number of prisoners has doubled, violence has affected hundreds of people and repressive laws passed by the government or the King has changed Bahrain into a dictatorship," he said.
Rajab also expressed his disappointment and anger at the UK's cosy relationship with the Bahraini regime. "Historically UK took a stand against our struggle for democracy even in the 90s," he said. "Now relations have strengthened with the royal family and this is very disappointing for Bahraini people and human rights defenders like me".
Yet, Britain-Bahrain's relations are coming under scrutiny after news that the King of Bahrain's son, Prince Nasser bin Hamad al-Khalifa, faces a High Court judicial review over whether he has immunity in the UK from prosecution for alleged torture.
The Queen, who welcomed King Hamad at the Royal Windsor Horse Show, also faced embarrassment after his son Prince Andrew withdrew from a Bahraini-funded PR event in London.
Dictatorship Kingdom
After the crackdown on the pro-democracy uprising in 2011, led by Saudi forces and quietly supported by Britain and the US, Bahrain is plunging deeper into sectarian conflict between the ruling Sunni-al-Khalifa minority and the neglected Shia majority.
King Hamad pledged to implement recommendations by an independent commission of inquiry but reforms are slow and reconciliation talks have been stalling for months. Violence between riot police and protesters take place every week. A 14-year-old was recently allegedly shot and killed by police during a funeral procession
Al-Wefaq, the country's main opposition party, reported that 170 protesters, including 29 children, were arrested by government security forces in April. At least 58 protesters were injured, mostly by pellets.
Several decrees approved by Bahrain's King Shaikh Hamad bin Issa Al-Khalifa include up to 7 years in jail for criticising the king. All protests, sit-ins and gatherings in Manama are banned indefinitely. "The King has all the power and policy but you cannot criticise him or you can be jailed," Rajab said. "Same thing for the police or the army. You cannot write on Twitter things the government don't like or you can end up in jail."
The activist was punched in the face by riot police as he led a demonstration in February 2012. He was also arrested and charged with "insulting a national institution" in his tweets. His conviction was overturned after he served a three month sentence.
"The world has changed except in the Gulf Kingdoms"
While in prison, Rajab was held in dire conditions and maltreated.
It is a common feature in Bahraini prisons.
The Bahrain independent commission of inquiry found that detainees are tortured using more than a dozen different techniques, including electric shock, sleep deprivation and threats of rape. Human Rights Watch has maintained that "Bahrain has a well-deserved reputation for torture", and that this reputation is "all of its own making". Amnesty International has previously investigated the torture and sexual abuse of children in detention.
Rajab was placed in solitary confinement in a cell with a dead animal. He was also held almost naked, with only a small piece of cloth covering his genitals. But the worst abuse was of psychological nature, Rajab said.
"They succeeded in disconnecting me from the outside world," he said. "I was kept away from other political prisoners and not allowed to talk about the human rights situation with anyone, not even my family. My knowledge of the outside world was very limited when I came outside as I was handed only government newspaper."
But he claimed that his struggle for democracy continues
"I believe very strongly in freedom. I want a better future if not for myself, for my children," he said.
"The whole world has changed towards freedom and justice except this part of the world, the Gulf countries, and nobody will come to help you from outside, from the UK, the US or Europe because they're looking for their interests here. We have to rely completely on ourself."