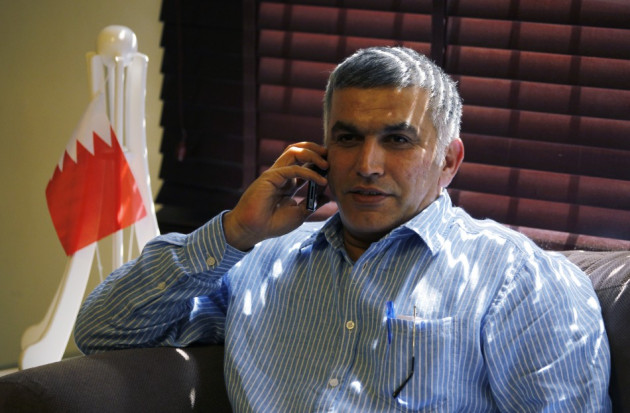 A Bahraini court has sentenced prominent human rights activist Nabeel Rajab to three years in prison, for three separate cases of inciting and participating in protests against the Sunni Al-Khalifa monarchy.
Rajab's attorney, Mohammed al-Jishi, told reporters that each of the three cases carried a one-year jail term. Al-Jishi added that his client, currently head of the Bahrain Centre for Human Rights, plans to contest the sentence.
Following the trial, Rajab's son, Adam Nabeel Rajab, used Twitter to convey a message from his father.
The message read: "Jail me three years or 30 - I will never give up."
Series of punishments
The three-year sentence is the latest in a series of punishments for Rajab, who heads up Bahrain's Centre for Human Rights and has been at the forefront of pro-democracy protests during 16 months of unrest in the Gulf Arab state.
The 48-year-old is already in prison, having received a three-month sentence in June for insulting the Sunni elite on Twitter. Rajab used the microblogging site to claim that residents of the Sunni Muharraq district of Bahrain were supporting prime minister Sheikh Khalifa bin Salman only for financial gain.
Just days before the twitter trial began, Rajab emerged from a one-month prison sentence imposed in early May, when he returned from a protest meeting in Beirut, Lebanon.
He was arrested at Bahrain's Manama airport on 5 May, after returning from a conference in Beirut, Lebanon.
During the Twitter trial, the activist described his case as "political" and "vindictive".
In a separate interview, conducted with the international observatory Witness Bahrain, Rajab said: "I believe strongly in peaceful means of struggle. It could take longer time, but has better results.
"I will continue all my life struggling for democracy and human rights."
Continued protests
The turbulence in Bahrain appears to be continuing unabated, with large sections of the majority-Shiite population complaining against alleged human rights abuses by their Sunni rulers.
Ali al-Asswad, resigned Bahraini MP and member of al-Wefaq, told IBTimes UK: "Protests are on-going in a lot of villages and protesters are still being arrested in the country.
"The problem is that protests are banned. People want democracy and freedom of expression, but as long as they are not allowed to demonstrate in the streets there is a risk for violence to increase."
The youth are getting increasingly frustrated, according to al-Asswad.
"Al-Wefaq [main opposition party in Bahrain] has and is continuing to condemn the use of violence.
"There are 1,400 political prisoners in Bahrain. A lot of prisoners have been tortured. But compared to other countries in the region, the mainly peaceful demonstrations have received little support from the international community."