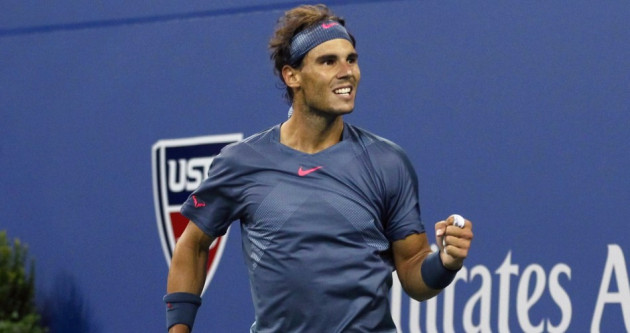 Rafael Nadal produced a dominant performance to see off fellow-Spaniard Tonmmy Robredo and cruise into the US Open semi-final against Richard Gasquet.
Nadal crushed Robredo 6-0 6-2 6-2 to surge into the last four in New York to remain unbeaten in 20 hardcourt matches in 2013.
Champion at Flushing Meadows in 2010, Nadal swatted away Robredo, who had defeated Roger Federer in straight sets in round four, in 1 hour 40 minutes - the shortest US Open quarter final for 25 years.
"In general it was my best match of the tournament, so that's great news to be in quarterfinals and played my best match of the tournament," Nadal said.
"To be in the semifinals is very important result for me. Is fantastic win, so just enjoy it today.
"I feel that today I played much closer the way that I want to play, playing more aggressive, with my backhand without losing court.
"When I had the forehand I was able to change the directions a lot of times and with a lot of precision. I'm sure that's the way I have to play to keep having chances to be successful in every surface, but especially on this one."
The 12-time grand slam champion will face Frenchman Gasquet after he defeated David Ferrer 6-3 6-1 4-6 2-6 6-3 to reach his first grand slam semi-final for six years as he broke new ground at the US Open.
Gasquet had raced into a two-set lead but was pegged back by the dogged Ferrer who, with an 8-0 win-loss record over the world No.9, was sensing a semi-final place for a second successive year after taking the match to a fifth set.
But Gasquet prevailed after securing a crucial break in the fifth game to take his place in the semi-final against Nadal, against whom he has all 10 of the pair's encounters, after matching his career-best performance at a grand slam.
"I'm playing very good," Gasquet admitted. "I'm in semis in US Open, so for sure I'm playing my best tennis. To win Raonic and Ferrer in five sets you need to play your best tennis
"I think it's very difficult to play against Rafa. I'm not the only one to lose, to have this record. But it's very difficult because he's powerful, especially with the forehand. No, I'm in semis in US Open. I want to do the best I can do."