People in several US cities unwittingly saw a different side of Donald Trump on Thursday (18 August), as naked statues of the Republican nominee popped up in Cleveland, Los Angeles, New York, San Francisco and Seattle.
The installations were part of a project called "The Emperor Has No Balls" by art-activism collective INDECLINE. The group released a statement saying it hoped Trump "is never installed in the most powerful political and military position in the world."
INDECLINE continued: "It is through these sculptures that we leave behind the physical and metaphorical embodiment of the ghastly soul of one of America's most infamous and reviled politicians."
The statues, created by a Las Vegas-based artist named Ginger, depict Trump wearing a stern expression with his hands folded over a pot-belly, NY Magazine reported. As the project's name suggests, Trump is depicted without male reproductive organs.
One of the statues, placed in New York's Union Square, became quite the tourist spot before it was ultimately removed by the city's parks department.
"NYC Parks stands firmly against any unpermitted erection in city parks, no matter how small," parks spokesman Sam Biederman told reporters.
A video by NYC Patch shows onlookers booing as parks workers removed the statue from Union Square. One woman can be heard yelling, "Take his nasty feet, too!"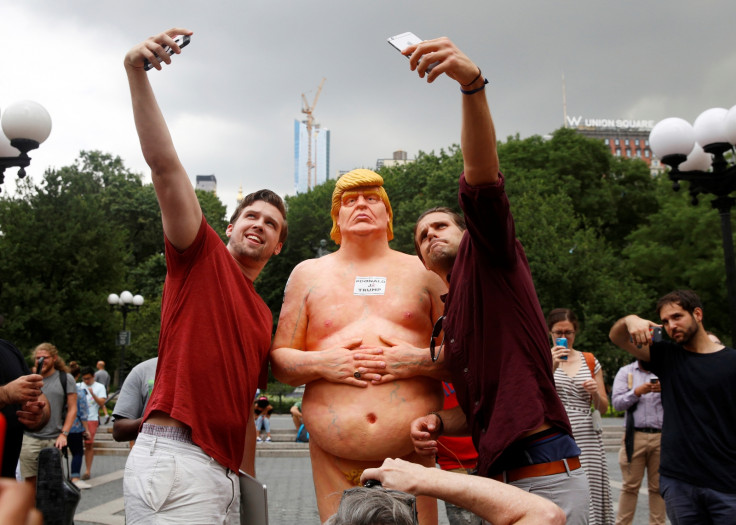 According to WGNTV, Mayor Bill de Blasio was asked about the statue during a press conference. He replied, "That is a frightening thought. When he's wearing clothes I don't like him."
Trump's campaign reportedly declined to comment on the statues, according to The Associated Press.