The Federal Police of Brazil said authorities in Rio have recommended that charges be brought against US Olympic swimmers Ryan Lochte and James Feigen after the pair were accused of lying about a robbery. Lochte, Feigen and two other US swimmers claimed they were held up at gunpoint in Rio during the 2016 Olympic Games.
Rio's Civil Police Chief Fernando Veloso said one or more of the men vandalised a bathroom at a gas station after leaving a party at France House early on Sunday (14 August). The Olympic swimmers reportedly broke mirrors and caused other damage in the bathroom, ABC News reported.
Police said that the athletes refused to remain at the gas station when security asked the taxi they were in not to leave. Another person helped translate between the athletes and the guards. The athletes then left money behind to pay for the damage.
The four athletes initially claimed they had been robbed at gunpoint as they travelled from France House back to the Olympic Village. However, their stories differed in their accounts to the media and to police.
Authorities noted that they found no evidence of violence against the swimmers, but they did acknowledge that a guard pointed a gun at Lochte, The New York Times reported. The investigation is ongoing.
According to ABC News, sources close to the four swimmers refuted Brazilian police's account of what transpired that night. Sources said the four swimmers were held up by armed gunman and were only released when they handed over hundreds of dollars. The swimmers have cooperated with authorities, they added.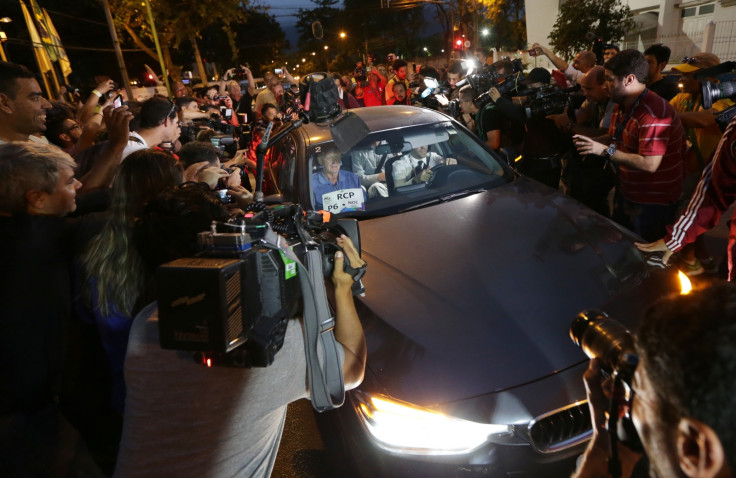 Initially, Lochte claimed in media interviews that the four were robbed as they made their way back to the athletes' village. However, on 17 August, Lochte told NBC News' Matt Lauer that the swimmers had used the restroom at the gas station and were then robbed when they came back to the taxi.
Brazilian Judge Keyla Blank issued a search and seizure warrant for Lochte and Feigen on 17 August for additional questioning and to determine whether the two had filed a false police report. Under Brazilian law, filing a false police report can result in six months detention of a fee. Lochte, however, returned to the US before the order was handed down.
A day later, teammates Jack Conger and Gunnar Bentz were removed from the flight home by Brazilian authorities investigating the alleged crime.
US Olympic Committee (USOC) spokesman Patrick Sandusky told reporters that Bentz, Conger and Feigen "are cooperating with authorities and in the process of scheduling a time and place today to provide further statements to the Brazilian authorities."
Sandusky added: "All are represented by counsel and being appropriately supported by the USOC and the US consulate in Rio." The Associated Press (AP) reported that Conger and Bentz had checked in for a flight out of Brazil after testifying in the robbery probe.