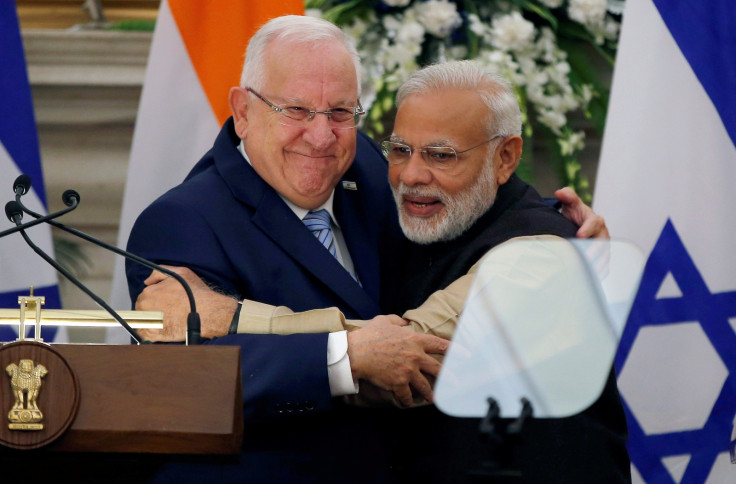 Indian Prime Minister Narendra Modi has left for a landmark visit to Israel during when key defence deals involving billions of pounds are expected to be signed. He will be the first Indian premier to tour Israel when he lands in Tel Aviv on Tuesday, 4 July.
Modi's three-day visit is being billed as the commemoration of the 25th anniversary of establishing diplomatic ties between the two countries. Modi and his Israeli counterpart Benjamin Netanyahu will hold talks on a range of issues including terrorism, trade and defence.
Modi's packed itinerary includes a rally leading thousands of Indians living in Israel but conspicuously missing a Palestine visit. It is rare for a leader of any major nation, which maintains cordial relations with the Arab world, to skip the Palestinian tour while visiting Israel. However, Modi had only recently met the Palestinian President Mahmoud Abbas when the latter visited India in May 2017.
"The visit it attests to the fact that our relations with India became closer. This visit will deepen cooperation in a range of areas – security, agriculture, water, energy, almost every field in which Israel is engaged," said Netanyahu, who will be accompanying Modi for the most part of the visit – an unusual gesture by the Israeli prime minister.
"This is a very significant step in strengthening relations between the two countries. India is a huge country with over 1.25 billion people and is one of the world's largest, growing economies. Ties between Israel and India are on a constant upswing," added Netanyahu.
"I begin a historic visit to Israel, a very special partner of India's... As the first Indian prime minister to do so, I am greatly looking forward to this unprecedented visit that will bring our two countries and people closer," Modi said in a statement. Besides his scheduled discussions with Netanyahu and President Reuven Ruvi Rivlin, Modi is set to hold a series of talks with several other top political and business figures.
After wrapping up his Israeli visit, Modi will then head to Hamburg to participate in the G20 summit.