Israel and India sign bilateral pacts to strengthen ties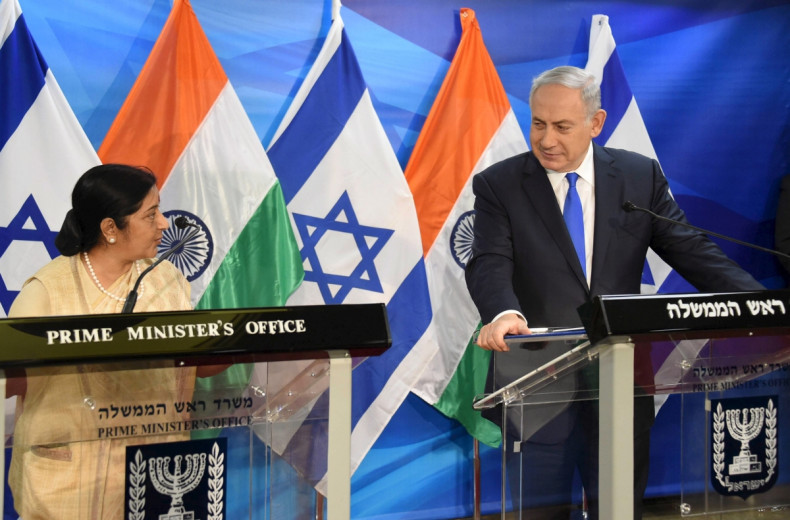 India's External Affairs Minister Sushma Swaraj is on a two-day visit to Israel, Palestine and Jordan meeting top authorities. Swaraj, who signed a range of bilateral agreements with Israel, deftly skipped thorny issues.
Swaraj, a right-wing politician, is on her first visit to the region as India's foreign minister attaching "high importance" to the strengthening of ties with Israel, conventionally a country which has strong ties with India. Nevertheless, bilateral relations have so far been largely confined to defence, while political ties have traditionally been skewed in favour of Palestine.
Swaraj's trip to Israel has injected fresh momentum to bilateral cooperation in various sectors including science, defence, agriculture and health. India, often considered to have soft power clout in the region, has expressed optimism over a new phase in ties. The Israel-India trade volume accounted for just $5bn (£3.4bn) in 2014 although a quarter of India's trade is with the Middle East.
"To quote your [Israeli] Prime Minister [Benjamin Netanyahu] 'sky is the limit' for ties between India and Israel," said Swaraj at a joint press conference with the Israeli premier.
"We should work towards a new vision of our important partnership, which should reflect our close friendship and harness fully the potential of our two knowledge economies."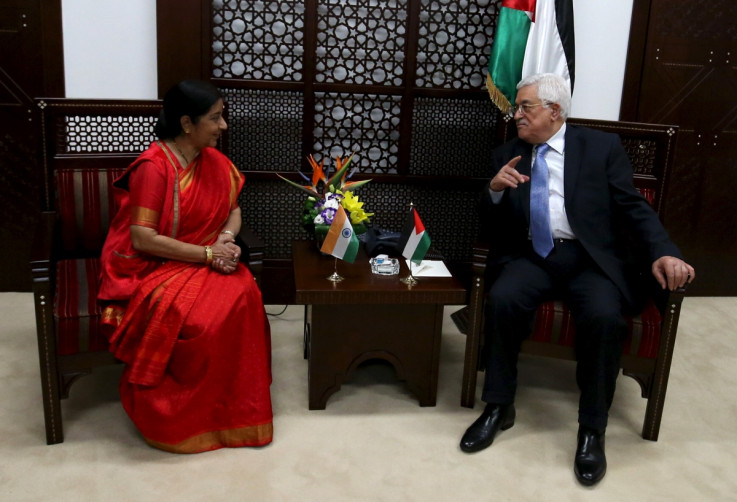 Palestinian President Mahmoud Abbas (R) meets with Indian Foreign Minister Sushma Swaraj in the West Bank city of Ramallah
Mohamad Torokman/Reuters
"The economic relationship is the key to developing our bilateral ties. We should move from a trade-based relationship to one that is based on investment, manufacturing and services."
Swaraj also met her Israeli counterpart Moshe Ya'alon and President Reuven Rivlin. During Swaraj's talks with Netanyahu, the hawkish Israeli premier did not miss the opportunity to highlight Palestine's anti-Israeli statements.
As Netanyahu showed Swaraj a short video compilation featuring several statements made by Palestinian leaders and officials, the Indian minister expressed her condolences for the victims of terror attacks.
"Israel and India are at the cutting edge of so many areas of innovation, and by working together we can do a lot more for our peoples and for the world. And we want to do more," said Netanyahu.
Swaraj also visited Ramallah, the administrative capital of the Palestinian Authority, on the first leg of her tour as New Delhi hailed the visit saying: "A partnership with Palestine begins."
The Middle East remains one of New Delhi's top priorities as nearly six million Indians are working in various states – chiefly oil-producing Arab nations. This is the largest number of a diaspora of foreign workers in the region.