President Donald Trump hosted a press conference with Indian Prime Minister Narendra Modi in the White House Rose Garden yesterday (26 June). It was an ideal opportunity to brag about something.
In this case it was the size of Trump's Twitter following – and the 45th President has every reason to brag, as his 32.9m followers make him a bigger presence on the social platform than any other world leader.
The Indian premier is just behind with 31m followers.
"I'm proud to announce to the media, to the American people and to the Indian people, that Prime Minister Modi and I are world leaders in social media," Trump said.
"We're believers," he added, raising a laugh from the press corps and his opposite number.
In March 2016, while on the campaign trail, Trump went to great lengths to assure US voters that his small hands bore no relation to the size of anything else about his person.
We may never now the truth of that statement (unless the Kremlin really do have career-ending tapes), but whatever the merits of Trump's manhood, at least he can rightly claim he is massive on Twitter.
Trump and Modi's followings dwarf those of many other world leaders. Pope Francis enjoys 10m, Emmanuel Macron has 1.5m while Theresa May can boast just 365,000 followers.
Trump claimed it was important for leaders to communicate directly with their citizens through social media, saying it gave citizens a chance to "hear directly from their elected officials and for us to hear directly from them".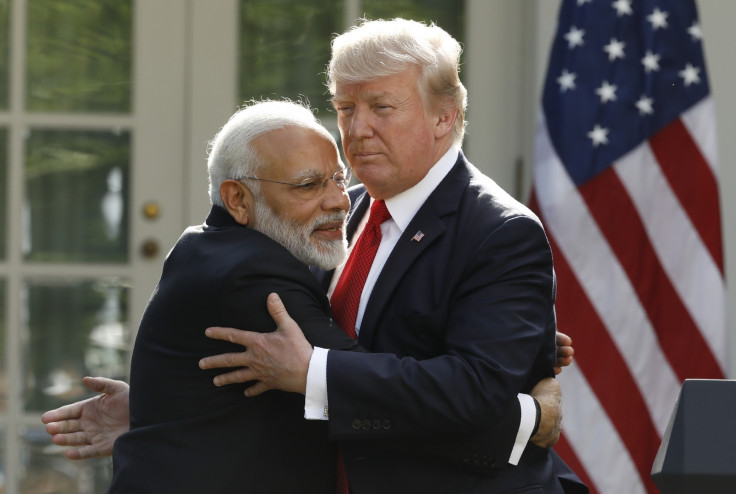 He added: "I am thrilled to salute you Prime Minister Modi and the Indian people for all that you are accomplishing together, your accomplishments have been vast.
"India has the fastest growing economy in the world. We hope we're going to be catching you [up] very soon in terms of percentage increase, I have to tell you."
There is one political figure with more followers than Trump and his identity is sure to get under the skin of the real estate tycoon.
Step forward Barack Obama and your 91.3m Twitter fans – three times more than the current White House occupant. Ouch. That's gotta hurt.