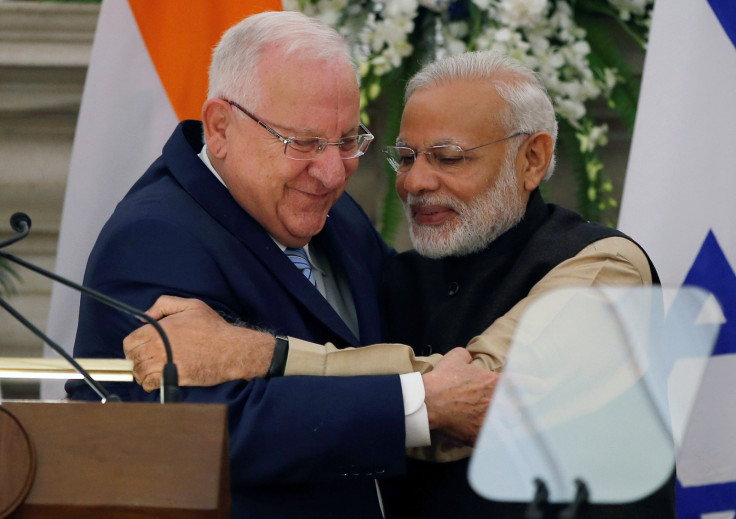 India and Israel have signed a defence deal worth $2bn (£1.6bn), giving a significant boost to the Indian army and navy. The agreement includes supply of advanced surface-to-air missile systems by the military exporting giant.
The announcement comes ahead of Indian Prime Minister Narendra Modi's proposed visit to Israel in June 2017. This will also be major push for Modi's pet project, Make in India, as Israel has agreed to assemble some of the defence equipment in the purchasing country.
The state-run Israel Aerospace Industries (IAI) said this is the biggest-ever security contract for Israel's defence industry.
In addition to the advanced medium-range surface-to-air missile systems (MRSAM) to the Indian army, Israeli contractor would also bolster India's indigenous aircraft carrier with long-range air and missile defence systems (LRSAM). India's locally made aircraft carrier is still under construction. Modi had ratified the entire deal in February but the formal announced was made on Thursday, 6 April.
While $1.6bn is awarded to the IAI, the rest of the package is signed with another state-run company, Rafael. "Over the past 25 years, IAI has worked with the Indian defence industries and armed forces in many areas as part of our strategic partnership," IAI's CEO Joseph Weiss said.
"This contract award also recognises the professionalism of all of Israel's defence industries. We at IAI are proud to be leading this flagship project after a long and joint development process," said Weiss.
Traditionally, India has been a strong trading partner of Israel, and is one of its major defence purchasers over the years.
The right-wing government, led by Modi, has promised to boost its relations with Israel ever since it came to power in 2014. When Modi tours Israel in June, he will become the first Indian prime minister to make the visit, marking 25 years of diplomatic relations between the two countries.