If humans ever get to Mars, we could end up living in conical houses made from ice that already exists on the planet, which would mean we would not need to transport building materials from Earth to Mars.
The 3D printable Mars ice house was devised by Team Space Exploration Architecture and Clouds Architecture Office and was awarded the top prize of $25,000 (£16,500) at the New York Maker Faire on 26 September.
"As water is the baseline resource for future outposts on a number of extra-terrestrial carbon-bodies, NASA has adopted a 'follow the water' approach towards exploration. As such, water, the essential building block of life, is our team's primary material resource in the formation of the Ice House habitat design," the winning team wrote on its website.
"Given the predicted abundance of water in certain areas on Mars, our approach takes full advantage of its properties as an indigenous material that acts both as a life-force to sustain a human and plant ecosystem, and, when 3D-printed, as our primary fabrication material."
3D-printing a house from plastic and water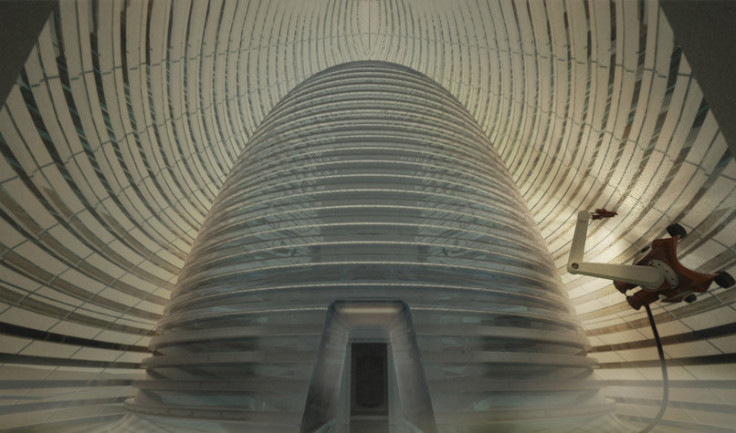 The ice house concept is possible if built on a part of Mars that has a climate which is tens of degrees Celsius below freezing point all year round.
That same part of Mars also has an underground ice layer, which scientists believe is caused by geothermal heat underground making water and other material move towards the surface, thus causing it to freeze before it reaches the surface due to the low temperatures.
This creates an "ice table" effect that creates the ideal base with which to construct a house made of water from. But where do you get the water? Well, Mars has a low pressure atmosphere that is incredibly thin. When ice is exposed to it, it immediately sublimates, turning into a gas.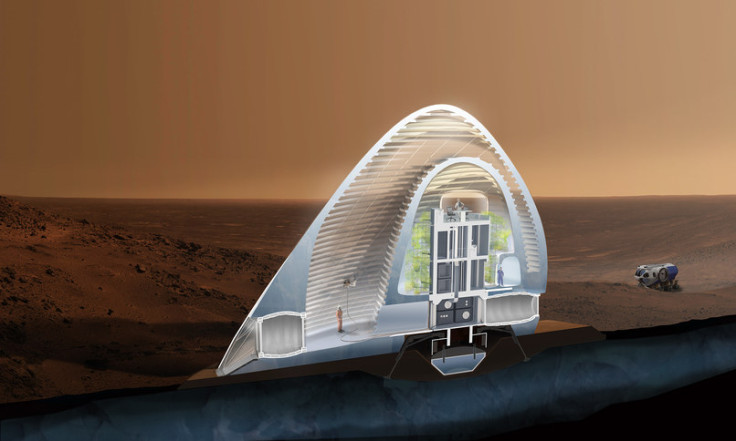 The idea is to harness that gas, heat it up, turn it back into water and then use a robot to spray layers of water, fibre and aerogel to create an outer ice shell that freezes immediately on impact. In addition to being translucent so light can come into the conical house, the ice walls protect against radiation.
The outer ice shell is then coated in a membrane of Dyneema-reinforced EFTE plastic to prevent the ice from sublimating, and then within the ice shell, a multi-level habitat can then be built that includes personal and communal rooms, as well as a hydroponic garden to provide oxygen and food.
Nasa's 3D Printed Habitat Challenge continues

The second prize in the contest of $15,000 went to Team Gamma, who created a rock habitat that could be built around an inflatable hub, and the third prize of $10,000 went to Team LavaHive's basalt lava habitat.
However, the 3D Printed Habitat Challenge is not over yet – the second stage of the competition will be starting soon, with two new challenges that each carry a cash prize of $1.1m.
The Structural Member Competition (Level 1) requires entrants to develop the fabrication technologies needed to manufacture structural components either from a combination of indigenous materials and recyclables, or indigenous materials alone.
Meanwhile, the On-Site Habitat Competition (Level 2) challenges competitors to build full-scale habitats using indigenous materials or indigenous materials combined with recyclables.
The second stage of the competition was originally slated to open for registration on 26 September, but a spokesperson for the National Center for Defense and Machining told IBTimes UK that there has been a slight delay and the new registration date is yet to be announced.

In order to complete the new challenges, entrants will have access to a wide range of references, which include extensive Nasa documentation on the habitability and environmental factors humans require in order to live and survive on a planet, such as precise notes about what sort of hygiene facilities, food, clothing, hardware, tools, furniture and fixtures astronauts will require in their Mars habitat.