Nasa has unveiled the result of their 'global selfie' project, launched in celebration of this year's Earth Day in April.
The space agency asked people all over the world to photograph themselves on 22 April, while holding pre-printed signs with the question: "Where are you on Earth right now?"
Nasa asked people to "get outside and show us mountains, parks, the sky, rivers, lakes" - and invited participants to write their location in the sand or spell it out with rocks.
While Nasa satellites capture new images of our planet from space every second, the aim of the campaign was to create an image of Earth from the ground using portraits, to promote environmental awareness and celebrate civilisation on our planet.
Using the hashtag #Globalselfie, the images streamed around the world using Facebook, Twitter, Flickr, Google+ and Instagram. Nasa even compiled a music video with some of the images, which you can watch below:
The agency received 50,000 pictures and used 36,422 individual images to create the interactive 3.2 gigapixel mosaic, with each picture comprising one pixel. According to NBC news, the image was dubbed "a new Blue Marble built bit by bit with your photos" and was hosted by GigaPan.
People from 113 countries participated and even Antartica was represented.
However, it should be noted that the individual photos do not match up with their geographic location of origin, as large areas of the planet would be left blank.
Peg Luce, deputy director of Nasa's Earth Science Division, said the Nasa team was overwhelmed by the number of images they received.
Luce told Reuters: "We're very grateful that people took the time to celebrate our home planet together, and we look forward to everyone doing their part to be good stewards of our precious Earth."
The full, zoomable mosaic is available to view online at GigaPan, where you can see each individual image. It also includes a view of each hemisphere, captured by the Visible Infrared Imaging Radiometer Suite, which is on board the Suomi National Polar Orbiting Partnership Satellite.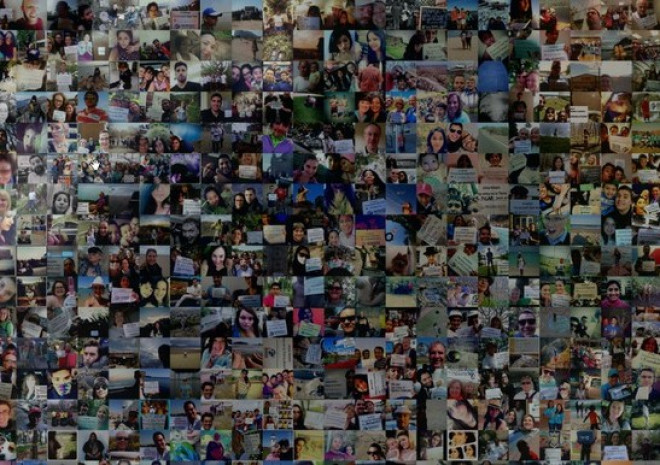 The project was also designed to raise awareness of five Nasa missions which are being launched this year. There are 17 missions currently observing Earth, studying the land, oceans and atmosphere.
Last year, a similar "Wave at Saturn" project was launched as part of the Cassini Solstice Mission.