Nasa satellite captures stunning image of cyclone over Japan and Russia
The Terra satellite that took the picture has been operating since 1999.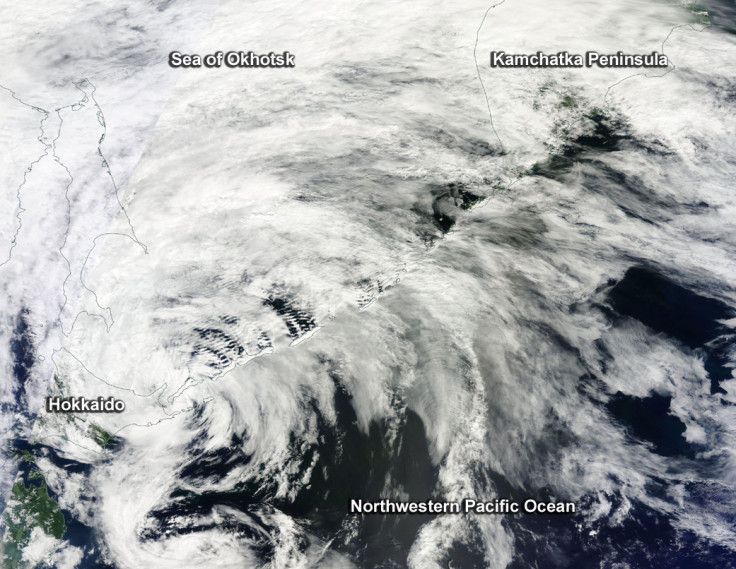 Nasa's Terra satellite has captured stunning image above of an extra-tropical cyclone threatening both Japan and Russia. Cyclone Conson's clouds indeed appear to cover the island of Hokkaido and stretch over the Sea of Okhotsk and the southern portion of Russia's Kamchatka Peninsula.
Hokkaido is Japan's second largest island, the one located farthest up north. For its part, the Kamchatka Peninsula is located in far eastern Russia and is about 1,250 kilometres long, stretching between the the Sea of Okhotsk to the west, and the Pacific Ocean to the east.
Although up to 110,000 people could be affected by wind speeds of tropical storm strength, it is not believed that the cyclone will have a high humanitarian impact. Indeed, the strength of the storm remains low and its past and pridicted path appear to coincide with areas of low population density.
The Terra satellite, which has caught the image of the storm has been operating since 1999. Approximately the size of a small school bus, its purpose is to take different measurements of the Earth system, including clouds and Earth's radiant energy system, pollution in the troposphere, or space-borne thermal emission.
However, to capture the cyclone, it is the satellite's Moderate Resolution Imaging Spectroradiometer that was used. The goal of this device is to measure the percentage of the planet's surface covered by clouds every day, in order to determine the impact of clouds and aerosols on the Earth's energy budget.
© Copyright IBTimes 2023. All rights reserved.