Millions of low-paid workers across the UK will see their pay rise to £7.20 an hour as the National Living Wage (NLW) comes into force on 1 April. But the new mandatory rate for people aged 25 and over has prompted fears of job losses across the country.
The independent Office for Budget Responsibility has warned that 60,000 fewer people will be employed by 2020 because of George Osborne's controversial policy.
Ryan Bourne, head of public policy at the Institute of Economic Affairs think-tank, said: "Its introduction will make it too expensive for some businesses to take on young, low-skilled workers in jobs that provide essential experience. It is these vulnerable people who will be hit the hardest.
"The implementation of the NLW shifts both the purpose and means of wage setting. This is no longer about eliminating perceived exploitative pay, but about maintaining a more equal distribution in the bottom half of the labour market."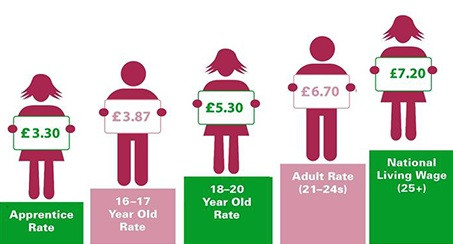 The chancellor unveiled the NLW after the general election, in his 2015 Budget. The measure means the independent Low Pay Commission will determine an hourly rate for workers under 25 since the National Minimum Wage, of £6.70 (21-24), will stay in place for them and any future NLW rate rises.
The NLW is also not to be confused with the Living Wage, which is independently calculated by the Living Wage Foundation based on the basic cost of living in the UK.
The rate is voluntary and is currently set at £9.40 an hour for London and £8.25 outside the capital.
"Today's NLW introduction means a welcome pay rise for over four million low-paid people this year, with women and part-time workers most likely to benefit," said Torsten Bell, director of the Resolution Foundation.
"That's hugely good news on the back of the biggest squeeze on living standards on record, but of course such an ambitious policy is not risk-free.
"It's vital that government works closely with businesses to get the implementation right as part of a wider move to reduce our Britain's reliance on low pay, low productivity ways of working.
"A higher minimum wage can't be expected to tackle Britain's chronic low pay problem alone. We now need to focus on the big challenge of ensuring more employers have strong pay and career ladders. That in the end is how people can escape low pay altogether."