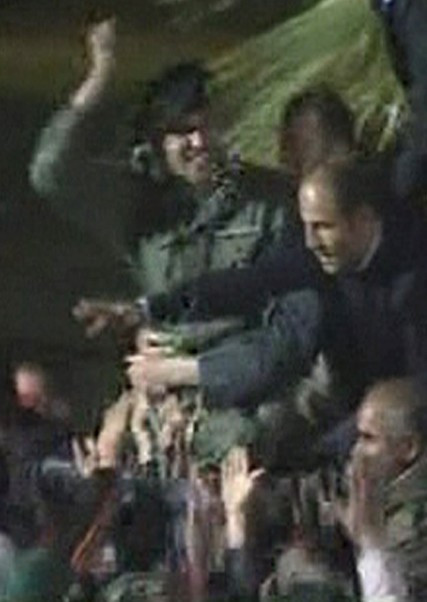 Rebel forces have said the Libyan leader's son Khamis was among more than 30 people killed following a NATO air strike on an operation centre in the western town of Zlitan.
Spokesman for revolutionary militia groups Mohammed Zawawi told AFP that spies operating among Gaddafi's ranks had confirmed the death.
"Overnight there was an aircraft attack by NATO on the Gaddafi operations room in Zlitan and there are around 32 Gaddafi troops killed - one of them is Khamis," he said.
28-year-old Khamis had already been reported dead in March in a crash after a pilot crashed his jet into a compound in Tripoli.
A NATO official at operations headquarters in Naples said that while he had heard of the report, he could not yet confirm or deny it.
"We cannot confirm anything right now, because we don't have people on the ground, but we are trying to find out what we can," he said.
The Libyan government has not yet commented on the report, making it impossible to be certain of its veracity.
If confirmed, the death of Khakis Gaddafi would be a severe blow to Gadhafi on both a personal and military level.
Khamis played a crucial role, working on the ground with Gadhafi loyalists. He is head of Libya's 32nd Brigade, one of Gaddafi's most professional and loyal units, which has been fighting in Zlitan, which lies between the rebel-held city of Misrata and the capital Tripoli.
While analysts say the death of Khamis would further hamper the Libyan forces' resistance to the rebels and NATO, his death could also rule out diplomatic and negotiations plans as it seems unlikely Gadhafi would be ready to negotiate with the rebel fighters.
The Gaddafi government said earlier this year that a NATO air strike had killed another of Gaddafi's sons, Saif al-Arab, who was however less involved in the conflict and did not have a leadership position within the government or the ground forces.
Rebels who have now claimed Libya's largest city, Misrata , have been trying for weeks to push westwards and take control over Zlitan, as they desperately try to head towards Tripoli, the capital city and Gadhafi's stronghold.