UK Joins Persian Gulf Naval War Games amid Iran-Israel Tensions
Three British warships joins 30-nation minesweep exercise, seen by military analysts as warning to Tehran to toe the line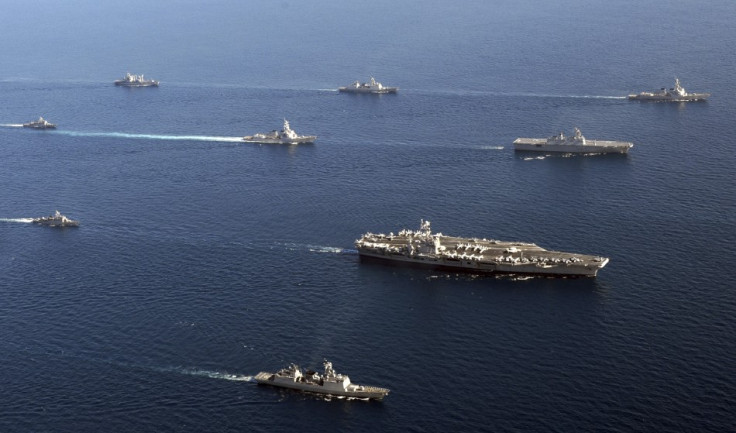 British warships have joined a major naval exercise in the Persian Gulf as tensions between Israel and Iran over Tehran's nuclear power programme increase.
British forces are taking part in a joint operation conducted by the navies of more than 30 countries to sweep the area - a major transit point of maritime trade - clean of mines.
"The UK is committed to a standing presence in the Gulf to ensure freedom of navigation in international waters such as the Straits of Hormuz," said defence secretary Philip Hammond.
"Disruption to sailing in the strait would threaten regional and economic growth. Any attempt by Iran to do this would be illegal and unsuccessful."
The show of strength in exercises that include naval deployment by Saudi Arabia, the US and France was designed to warn off Tehran from contemplating disrupting trade routes in the ongoing diplomatic poker game over its nuclear ambitions and Israel's threat of a strike.
The Strait of Hormuz between Iran and Oman is one of the most heavily used trade waterways in the world. Some 35 percent of the world's oil shipments - about 18 million barrels a day - pass through the 21-mile-wide channel.
Nuclear tension
Israel's prime minister Benjamin Netanyahu has been putting pressure on President Obama to threaten Iran with military intervention if Tehran takes its nuclear programme further.
"It's important to place a red line before Iran - that actually reduces the chance of a military conflict because if they know there's a point, a stage in the enrichment or other nuclear activities that they cannot cross because they'll face consequences, I think they'll actually not cross it," Netanyahu told CNN.
Iran's atomic energy chief accused the International Atomic Energy Agency, the UN's nuclear watchdog, of being infiltrated by "terrorists and saboteurs" after power lines to a nuclear enrichment plant were blown up.
Fereydoun Abbasi-Davani said that just after the explosion at the underground plant of Fordow, an inspector from the agency asked to visit the facility.
"Does this visit have any connection to that detonation? Who, other than the IAEA inspector, can have access to the complex in such a short time to record and report failures? Terrorists and saboteurs might have infiltrated the agency and might be making decisions covertly," said Abbasi-Davani.
Naval Games
Military officials involved in the Gulf naval exercises played down the political significance of the operation.
"This exercise is about mines and the international effort to clear them," said Vice-Admiral John Miller, commander of US Naval Forces Central Command.
"The work we will do here will strengthen relationships and enhance mine counter-measures interoperability among participating navies," said exercise director Rear Admiral Kenneth Perry.
A US fleet spokesman also said that the navy manoeuvres will take place out of actual Strait of Hormuz itself.
Known as IMCMEX-12, the naval exercise will see the participation of two British mine counter measures vessels (MCMV) and one Royal fleet auxiliary vessel.
The warships are part of the six-strong British fleet, which includes four MCMVs a frigate and a destroyer, currently present in the area.
Israeli PM Netanyahu says Iran Just Months away from Nuclear Bomb [VIDEO]
© Copyright IBTimes 2023. All rights reserved.