A sprawling Nazi holiday camp built by Hitler has been turned into a luxury resort – boasting apartments worth more than £500,000 (€565,000).
The three-mile concrete shell of the Prora resort on Rugen, a German island in the Baltic Sea, had been left abandoned for decades after building work was stopped on the eve of the Second World War.
But now developer Prora Solitaire has opened one of the eight blocks at the site, which holds some of the finest beaches in Germany.
Three further blocks are near completion. They will set buyers back between £297,857 and £553,163 for a sea-view penthouse. However, because the 71-year-old site is considered historic, German taxpayers can claim generous tax breaks on the luxury flats.
The modern, airy apartments and huge swimming pools are a lavish upgrade on the vision Hitler had for German workers who supported his brand of National Socialism.
The resort was originally intended to provide holidays for 20,000 Third Reich workers who would benefit from theatres, cinemas and concert halls – all just 150 yards from the beach.
The Furher commissioned architect Erich Putlitz to design the Bauhaus-inspired complex, which began three years of building work in 1936.
But once the world was at war the unfinished site was used to house workers and accommodate refugees.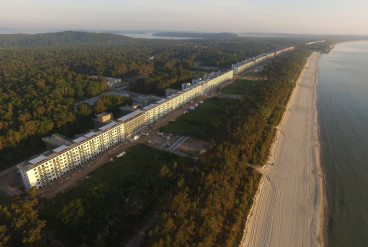 After 1945 the complex came under communist control, and was used as a tank and artillery base for the People's Army of East Germany, meaning it literally disappeared from German maps.
Some critics think upscale housing is the wrong use for a complex with such problematic connotations.
Historian Katja Lucke - who runs a museum on the island – told MailOnline: "This is a place where 20,000 people were to be groomed to work and wage war."
But Berlin estate agent Metropole, which markets the site, says sales are moving briskly – with 57 apartments snapped up so far.
Metropole spokesman Manfred Hartwig said: "The past is the past. Prora may have been built by the Nazis, but it was never used by them or their soldiers. Now the place is so lovely, visitors want to get back to nature and enjoy its beauty."