News of the discovery of a Nazi lair by archaeologists roaming the jungles of Argentina has gone round the globe.
It's pretty much the perfect news story; the ruins of an abandoned evil bunker found in the undergrowth, guarded only by snakes and monkeys. Images plucked from the pages of a political thriller by Robert Ludlum or Frederick Forsyth.
But in fact it turns out that these ruins, in the Teyu Cuare park near the Parguayan border, were not hidden at all. They were visible all along, but no-one had bothered to check them out properly until now, according to lead archaeologist Daniel Schavelzon, who granted an exclusive interview with IBTimes UK.
Schavelzon told us the compound comprises a total of three structures. "There is an open public park and a small open path that takes you to two of the buildings," he added. "The third one is hidden among the trees.
"These buildings were always in sight for many years but nobody had studied them. In fact, they are being destroyed by vegetation and no one has done anything."
Schavelzon and his team had set out to find out what these mysterious ruins hiding in plain sight were all about. Some local people had previously suggested Nazis may have lived there; one local man had painted a sign bearing the legend 'Casa de Bormann' in reference to Martin Bormann, who served as Adolf Hitler's private secretary in the Third Reich, and was for decades the world's most wanted war criminal - suspected of having escaped justice in South America via the notorious Nazi 'rat-lines' and the Odessa organisation.
Yet, remarkably, the archaeologists had no inkling that their quarry would turn out to contain the hallmarks of Nazi occupation. Schavelzon says. "We thought they were old, probably from the seventeenth or eighteenth century, and that they were made by the Jesuits in their missions. They turned out to be something else."
Schavelzon suggests the buildings were probably constructed around 1940, when the area was far more remote, a verdant jungle lacking roads of any kind. One of the buildings, Schavelzon says, was built to live in. "It has a strange architecture, but it is a house for sure." He is unable to speculate on the function of the second structure, but believes the third was built as a guardhouse, given its elevated position and the fact that it is less accessible.
There is as yet no cast-iron evidence, no smoking gun, to prove that the compound was in fact built by or for the Nazis. Schavelzon admits there was no evidence anyone ever lived there; he and his team found none of the rudiments of human habitation, such as beds, chairs and tables, and they certainly didn't find any human remains.
So why are they so convinced it was a bolt-hole for Hitler's henchmen? Well the biggest clue is the cache of Nazi coins that were found in the compound.
Schavelzon says the coins were embedded beneath a wall, "so it's impossible for someone to place them there. They are very small coins minted in 1940, 41, 42, 43, and have the classic eagle and swastika." The team made a number of other discoveries, such as canned food, fragments of oil and wine bottles, and a porcelain plate that says "made in Germany." Schavelzon is convinced that "all the objects we found are from that time."
Could someone have planted these artefacts to lure Nazi-hunting tourists? "No," says Schavelzon, "because these are excavated objects. I'm an archaeologist, I don't see what's on the floor, I look for what is lower and highly fragmented."
Besides, there is more evidence pointing to Nazi occupation. The archaeologist says: "it is an architecture that is not local, there is nothing like it in the region. It's absolutely exotic to the region, which is very poor, there are only wooden houses.
"It is situated in an inaccessible place, and nobody spends a fortune to construct buildings in a place where there is no way to reach. [And] the buildings were not used. If someone had built them they would have used it and not left it abandoned."
But, if it was Nazis, then who? Was there any evidence that the compound was actually built to be la casa de Bormann?
Well no, not really. Schavelzon says the man who created the sign did it to bring visitors, and earn a few pesos. "Martin Bormann was hunted in the area by many leading journalists after Nuremberg.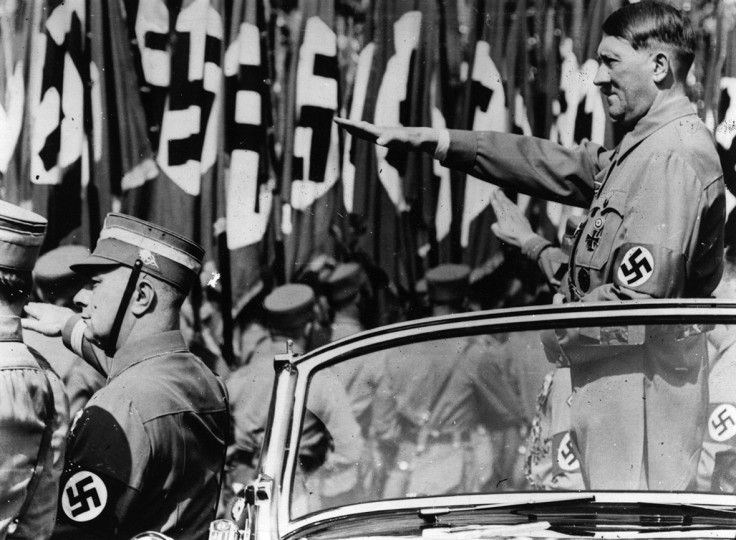 "No one knew where he was and they said that he was in that area. The local people remember that European journalists had offered good money for information about him and Josef Mengele, who were the two most wanted.
"The local people are very humble people who had probably never read a newspaper, and had no idea about the war, the Nazis or anything. That created a myth and there are endless houses caled Bormann, because it was the only German name of the war they knew, and still know."
In fact, the true identity of the person who built the house may never be established. Schavelzon admits that "for us it is still a hypothesis, an assumption, it will take years to prove it. Now we have to study everything we found, which will take many months, and plan new expeditions to the site to keep digging."
We ask if Schavelzon will be combing the area for more Nazi compounds, further evidence that this was area was once viewed by the Nazis as an idyllic refuge in which they could bury their crimes. "Yes, of course," our interviewee replies, "because it's very important."
There seems little doubt that Schavelzon's milieu, the focus of his working life, has shifted. Until this week he was an archaeologist; now, he is a Nazi hunter.