US-based Turkish NBA star Enes Kanter was briefly detained at a Romanian airport on Saturday (20 May) after authorities said his native country Turkey had cancelled his passport. He blamed Turkish President Recep Tayyip Erdogan for his situation.
Kanter, who plays for the Oklahoma City Thunder, is reported to be a vocal critic of Erdogan, and is a long-time supporter of Pennsylvania-based preacher Fethullah Gulen.
The 25-year-old star posted a video on Twitter saying his passport was cancelled due to his political views.
Kanter is reported to have become the latest victim of the Erdogan government's widening international crackdown on those it considers as political dissidents and coup plotters.
He said he was held at Bucharest airport in Romania for several hours and blamed Erdogan for the detention. Kanter called the Turkish leader a "bad, bad man", a "dictator" and the "Hitler of our century".
"I'm being held at Romanian airport by police," Kanter tweeted, along with a picture of him with his arms around two police officers.
He also posted a video, speaking in English, describing his situation.
"We are in Romania and they said they cancelled my passport by Turkish embassy," he said in the video. "You know because the reason behind it is just of course my political views."
In his follow up tweet, he said: "Got lots of things to say with lots of crazy stories, Be ready!!!"
He added that he would address a press conference on Sunday (21 May) once he reaches New York.
It is unclear what travel documents he was carrying with him, but Romanian border police said in a statement that Kanter's passport was invalid.
The NBA star was travelling from the US to Romania with a stopover in Frankfurt.
"At the border checkpoint it was discovered that his passport is not valid, his travel document being annulled by the issuing state," the statement said.
Kanter then flew on to London.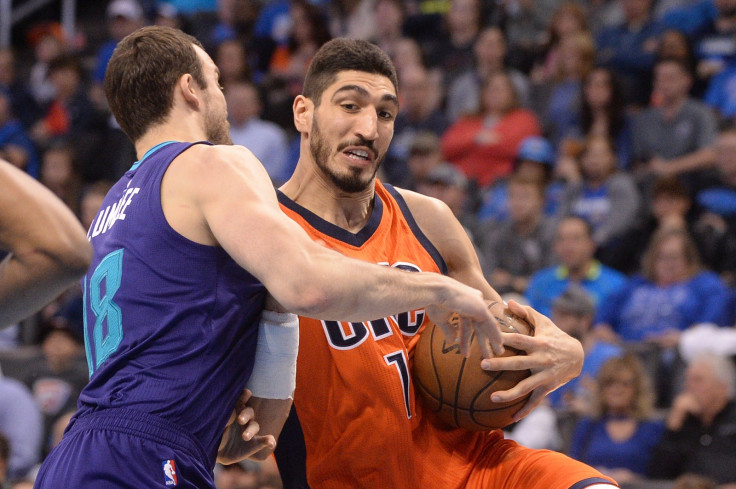 Kanter's agent, Melvut Cilnar, said Kanter was safe and would return to the US "very soon", Reuters reported.
In August 2016, Kanter said he had cut ties with his family as he pledged allegiance to Gulen after the former's father publicly disowned him by publishing a letter in Turkish media.
The Erdogan government has been seeking to extradite Gulen, who has lived in self-imposed exile since 1999, in relation to a failed coup in July 2016.
Since then, Turkey has launched a crackdown on the supporters of Gulen by sacking them from their jobs in Turkey. Many of them were even arrested.