In an unexpected turn of events on Tuesday (16 May), following a vital meeting between Turkish President Recep Tayyip Erdogan and US President Donald Trump in Washington, two groups of protesters clashed outside the Turkish embassy.
A video of the protests, widely circulated on social media sites, shows American policemen trying to calm down the pro-Erdogan and Kurdish supporters. The violent protest reportedly took place in front of the official residence of Turkish ambassador to the US, Serdar Kılıç.
According to the official Twitter account of Washington, DC fire and EMS department, at least nine people were injured in the incident that involved more than two dozen demonstrators.
The video shows the two groups, carrying their respective flags and placards, shouting slogans outside the embassy. Following some verbal altercations, people are then seen punching and kicking each other, while policemen are seen trying to intervene and stop the violence. The situation was reportedly brought under control after reinforcement team reached the spot.
Earlier in the meeting, Erdogan clearly stated that he would never accept America's alliance with the Kurdish militia, referring to the recent White House announcement on additional arms supply for the Kurdish fighters, who are part of the Syrian Democratic Forces leading the anti-Isis campaign to retake Raqqa.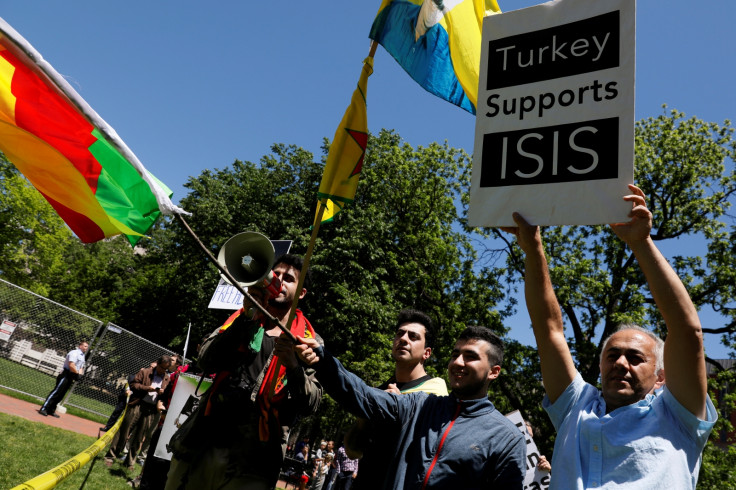 Erdogan insisted that US and Turkey would need to work together to fight all forms of terrorism. "There is no place for the terrorist organisations in the future of our region. Taking YPG [ People's Protection Units] and PYD [Democratic Union Party] in the region – taking them into consideration in the region, it will never be accepted, and it is going to be against a global agreement that we have reached. YPG is the Kurdish militia group while PYD is a left-wing Kurdish political party active in northern Syria.
"We should never allow those groups to manipulate the religious structure and the ethnic structure of the region making terrorism as a pretext or an excuse.
"Those who are willing to turn to chaos in Syria, Iraq, Yemen, and Libya are bound to lose eventually. They will never be able to turn that chaos in that part of the world into an opportunity, and the terrorist organizations with blood on their hands are bound to fail," Erdogan added.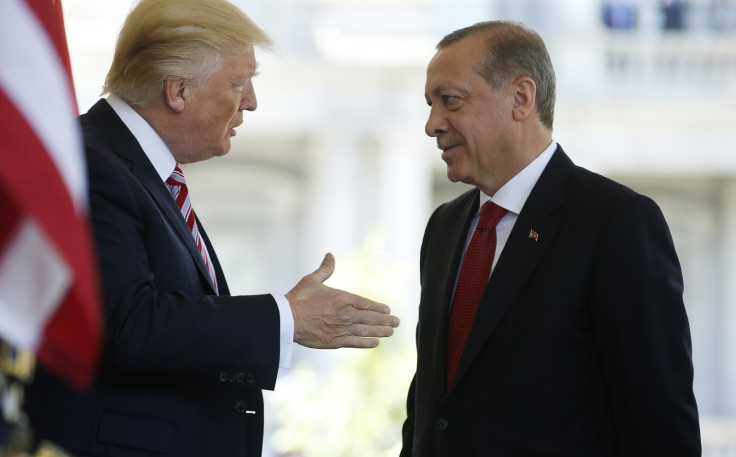 However, despite the differences in their stance, Trump insisted that their relationship was great and that they would work together to make it even better in future. He cited Turkish support in the Cold War against communism, against Soviet expansion and in the Korean War.
"Today we face a new enemy in the fight against terrorism, and again we seek to face this threat together. The Turkish people have faced horrible terrorist attacks in recent years and even recently," Trump said.
"We support Turkey in the first fight against terror and terror groups like Isis and the PKK[Kurdistan Workers' Party], and ensure they have no safe quarter, the terror groups," the president added.